1897 Parker Brothers Game of Favorite Art
Including fourteen different artists and their works, the 1897 Parker Brothers Game of Favorite Art gives a fantastic glimpse at some beloved old images.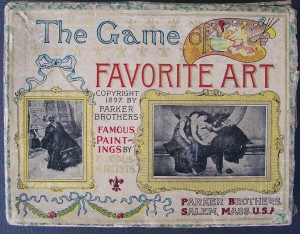 A wonderful antique game to add to a collection, Favorite Art comprises of 56 cards depicting illustrations by various artists. Playing the game today, they are sure to capture the attention of players.   Although a simple game, looking upon the card's images will boost the excitement for the competitive experience.
To begin, all cards are shuffled and dealt to the players.  The instructions suggest the game is best played with three to eight players.  The person to the dealer's left goes first and asks, from any player of choice, for a card to help complete a set in his hand,.  The objective is to create sets (all four cards of an artist's name).  The winner of the game is the player with the most sets at the end of the game.
What are so interesting are the old time images shown on the cards. The game includes four illustrations from each of the fourteen different artists featured in the game (listed below). The Outing Magazine, The Saturday Evening Post, Harper's Monthly, and St. Nicholas Magazine are only some of the publications the following artists displayed their talent in.  Browsing through the cards provides a unique look at magazine illustrations from the late 1800's to early 1900's.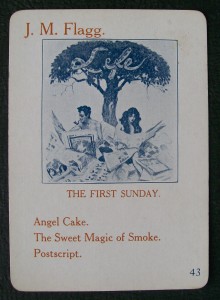 For example, four cards in the game feature the works of James Montgomery Flagg.  He is well-known for his 'I want you for the U.S. Army' poster (1917).  One of his earlier images entitled, The First Sunday, was on the cover of Life Magazine in December, 1910.  The snake in the tree forms the title; Life.  This is one of the illustrations included in the game of Favorite Art.
Other works in the card game of J.M. Flagg's are:
Angel Cake
The Sweet Magic of Smoke
Postscript
Below is a list of the remaining Artists, titles of their illustrations, and a few images of cards, which comprise the old Parker Brother's game copyrighted in 1897.
C. Coles Philips
A Man after her Own Heart
Her Choice
Dear or Dearest
Force of Gravity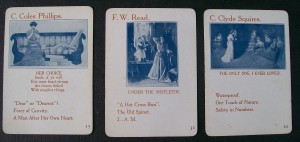 F.W. Read
The Old Spinet
A Hot Cross Bun
2 AM
Under the Mistletoe
C. Clyde Squires
Waterproof
One Touch of Nature
Safety in Numbers
The only One I ever Loved
C.D. Gibson
A Good Game for Two
Lover's Luncheon
Monday Morning
Another Monopoly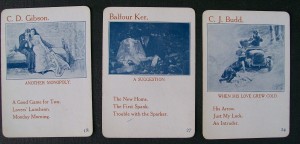 Balfour Ker
The First Spank
Trouble with the Sparker
A Suggestion
The New Home
C.J. Budd
When his Love Grew Cold
His Arrow
Just My Luck
An Intruder
A.D. Blashfield
After the Wedding
The Magician
The National Game
Another Investigation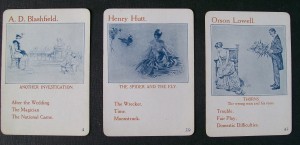 Henry Hutt
Time (He: I love you enough to wait a thousand years. She: And I love you enough to marry you today)
Moonstruck
The Wrecker
The Spider and the Fly
Orson Lowell
Domestic Difficulties
Thorns
Trouble
Fair Play
Bayard Jones
Her Answer
Dessert
Lovers Lane
Her First Pie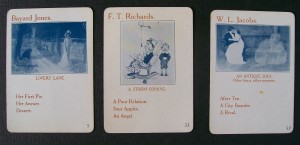 F.T. Richards
A Storm Coming
A Poor Relation
Sour Apples
An Angel
W.L. Jacobs
An Antique Sofa (other times, other manners)
After Ten
A City Boarder
A Rival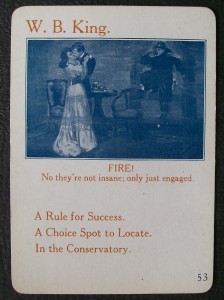 W.B. King
A Rule for Success (Have your heart in your work)
A Choice Spot to Locate
In the Conservatory (as he remembered it)
Fire! (no they're not insane; only just engaged)