Blokus: Award Winning Game and Great for Family Game Night
Blokus is a fascinating and unique board game that will have a family wanting to play again and again on family game night.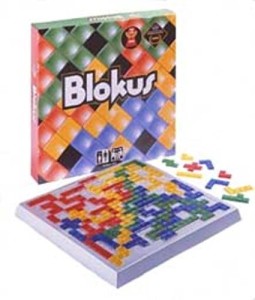 Not only is Blokus a worldwide award winning board game (like the box cover says), it will for sure be a winner for any family's game night.  Recommended for ages 5 and up it offers strategic fun for the whole family.  Teens can enjoy playing the game with younger brothers or sisters, while parents will be challenged by all.
Blokus is easy to learn and takes only around 20 to 30 minutes to play.  The board is a gridded 20X20 square and there are 21 pieces in each of four colors (blue, yellow, red, and green) for a total of 84.  The pieces are different shapes which are strategically placed on the gridded board by the players.
The object of the game is to place as many pieces on the board as possible.  Each player begins by taking turns, with blue going first (then yellow, red, and green), and places any piece they choose in their corner of the board.  The game involves all four colors, even if only one player is playing.
This is a unique aspect of the board game.  A person could play a game of solitaire with Blokus.  Their goal would be to challenge themselves and place all 84 pieces on the gridded square successfully.  If there are only two players playing the game, each player controls two colors.  If there are three players then the players each take a turn placing the extra color along with their own.  Four player games control one color.
A new player's piece must be placed by touching their own color only at the corners.  A player's pieces may lay along the edges or sides of other opponents (just not a player's own).  This method of play allows the board to grow and intertwine with all players.  Although that is basically all there are to the rules, there are many strategies which can be used on how to win.
A competitive family will enjoy having the many different options available for movement.  However, a family who wants to leisurely play a game will have fun with the game just as much.  Younger children will be involved in the game as much as any one else.  They place their pieces on the board corner to corners while the older players mesh around them.   These elements of the game, allowing anyone to actively participate, are what make it a great game for family game night.  The game is challenging and yet simple at the same time.
Blokus was invented by Bernard Tavitain and first released in 2000.  In 2009 after winning many awards and grabbing the attention of major game companies, Mattel Inc. sought to acquire the rights to the game of Blokus.  Successfully doing so, Mattel can say it has blocked his opponents and has won the game of Blokus by having all the pieces of this fascinating game on board at Mattel.
You may also like: How to Make a Blokus Game Cake