Castle Panic: Fun Game for One Player or More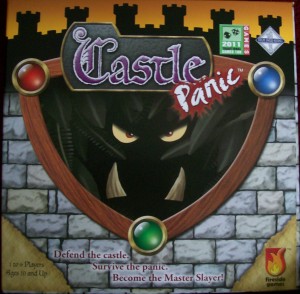 Defending a castle, from evil monsters lurking in the nearby dark forest, may not sound like much fun for one person to do alone, but it is! Castle Panic is a unique board game which can be effectively played solo as easily as it can be played by 6 players. The towers need protected and all monsters need destroyed whether there is one person or more available to accomplish the task. The same panic is felt as orcs, trolls, and goblins, creep closer and closer, to takeover the castle's towers.
The set up for the game stays almost the same whether one player or six players are playing. The six towers and walls are placed in the center ring. Six monster tokens are positioned into each of the arcs of the colored archer ring, and castle cards are dealt.
Depending on the number of players determines the amount of castle cards given to each player. For one or two players, six cards are dealt. For three to five players, five cards are handed out, and in a six player game, four castle cards are given to each player.
The objective of the game is to destroy all monsters approaching the castle from out of the deep forest. Strategically playing the castles cards helps achieve the goal. If players fail, the castle is overrun by the monsters and all players lose. If all monsters are destroyed, then all players win. Castle Panic is a co-operative game which all players win or lose together.
There are six phases to each player's turn and they must be done in the following order:
1) Draw up- each player is to start with the amount of castle cards which were initially dealt to him (after first round). He draws accordingly.
2) Discard and draw 1 card- this phase is optional. In a one player game, the player may choose to discard up to two cards and replace with new, possibly more desired, cards.
3) Trade cards- this phase is optional. Since Castle Panic is a co-operative game, players can discuss the best plan for trading cards with each other.
4) Play cards- a player chooses to play as many cards as he wants in order to best destroy the approaching monsters.
5) Move Monsters-all remaining monsters on board, move forward one space (one ring)- there are five rings; forest, archer, knight, swordsman, and castle. (there are special instructions for monsters moving into the walls and towers of the castle).
6) Draw two new Monster Tokens- Two new monster tokens are placed in the forest ring. The divided sections of the forest are numbered. Roll a die to determine where the monster appears.
Co-operatively, players plan the entire group's defense for the game. They discuss and help each other during each player's turn. What monsters are the best monsters for that player to attack and try to kill? Since players are aware of other player's cards, they work together to clear the forest, and ultimately the castle, from all enemy creatures.
Challenging for one player, Castle Panic is a wonderful game to have around for times when 'just one' wants to play a board game. It is fantastic for family game night, as well. The co-op play allows various ages the opportunity to play together. Older ones can teach younger ones how to strategize for the best results. Castle Panic is one of the favorite games pulled off the shelf when someone asks, 'hey, you want to play a game?'