Create a Christmas Fun and Games Gift Basket for a Family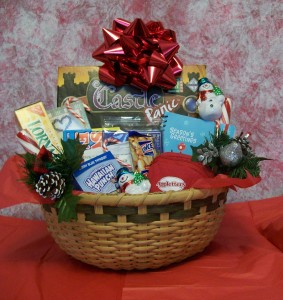 Creating a Christmas fun and games gift basket makes a great overall present to give to a family.  An arrangement of items, along with a game the family can enjoy all year round, is a thoughtful and unique idea.  Depending on the age of the children in the family, helps decide which game should be chosen to place in the special holiday basket.  The following are some game suggestions and items to include in the assortment.
Games for a Family with both Older and Younger Children
For a family, consisting of both younger and older children, a cooperative board game is the perfect choice for adding into a Christmas fun and games gift basket.  Cooperative games allow all players to work together to meet the game's objective and win.  Older players can help younger players strategize and decide what moves would be best for all players.  All ages equally feel part of the game.

Castle Panic is one such cooperative board game and it provides lots of excitement.  Played on a family game night, it will have families working together to defend their castle from evil monsters.  Goblins, orcs, and other creatures emerge from the surrounding dark forest and move towards the castle in efforts to overtake it.  Players plan and form their best defense in order to win.  Exceptional fun for all ages.
Another favorite cooperative game is Forbidden Island.  Here, players work together to gather four sacred treasures, before the island they are on, sinks!  It makes for suspenseful moments and playing the game is an energizing way for families to spend time with each other.
Games for a Family with Young Children (ages 3-7)

Cooperative board games are great for families with only younger children, as well.  Any of the Peaceable Kingdom board games of Stone Soup, Lost Puppies, Count Your Chickens, or Hoot Owl Hoot, would be ideal for placing inside the gift array.  Again, families work together to win the games.  Younger children love to help parents win the game.
Zingo! is a competitive game which young children enjoy playing and would make a fantastic addition to the fun and games gift basket.  It is described as 'Bingo' with a zing.  Each child chooses a 3×3 gridded card with 9 different images on the spaces.  Pressing down the Zingo Zinger releases two imaged tiles which players race to garb if the image matches one on their card.  The winner is the first to fill his entire Zingo card.  With two different levels of play, children can grow with the game as players grow as a family.
Games for a Family with Older Children (ages 8 and up)

The Careers board game is an ideal game for a family with older children.  It offers amusing game play and a unique method to determine a winner.  A family can learn a lot about each other while playing the game.   At the onset of the game, each player decides his own 'secret success formula' and then strives to achieve this formula in order to win.  Will a player choose to create a formula which consists of more Fame, Happiness, or Fortune?  Or will the three be equal?  Depending on a player's decision, he moves his piece through the various paths of 'careers' and earns points towards winning his victory formula.
Ticket to ride is another game a family will have a great time playing together.  The board depicts many routes to major cities across the United States.  Families compete to claim routes across the mapped board in order to win.  The game is an adventurous and strategic journey.
Along with a game, other items are placed in a decorative container to create a Christmas fun and games gift basket.  Adding snacks for a family to munch on while playing the games is an essential.  Microwavable popcorn, crackers, mixed nuts, pretzel nuggets, or other treats can be added.  Often, during the Christmas season, colorful packaged gourmet cheeses, summer sausages, sauces, or jellies are found.  Slipping a few of these into the basket works well.  Drink mixes, like hot chocolate or a small bottle of juice, are welcomed, as well.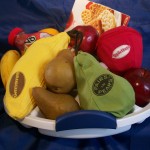 Pencils and notepads, a Christmas ornament, a standard pack of cards or any of the best stocking stuffer card games, can be positioned around the central game and munchies.  Fruits are other wonderful items to include.  If wanted, another game, like the fruitful games of Bananagrams, Appletters, or Pairs in Pears can be added for even more fun.  Complete the arrangement with dropping in a few candy canes, peppermint sticks, candies, and holiday greens for an appealing Christmas display.
Giving a Christmas fun and games gift basket encourages the gathering of families even after Christmas is over.  Coming together and playing a game can be enjoyed by all.  Providing a family with a game will spread the joy of Christmas throughout the year, and makes a great overall gift.