Crusade: 1923 Vintage Game by Samuel Gabriel Sons & Company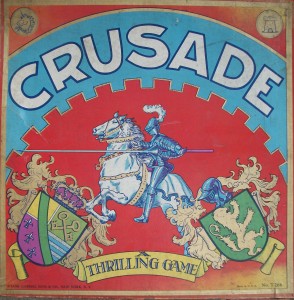 The vintage 1923 game of Crusade was published by Samuel Gabriel Sons & Company.  It is another example of how a book publishing company moved to also producing games.  Although not as popular as the well-known, and highly collectible games and books of McLoughlin Bros. of New York, Saml Gabriel Sons & Co. offered wonderful leisurely amusements, as well.
Crusade's knightly box cover says it is a 'thrilling game'.  Displaying a full armored knight on a magnificent white horse, the game attracted players with adventure in mind.  The game could be played by two, three, or four players.
To play Crusade, each player is in charge of five knights.  Starting from their own castle, the knights strive to score points by capturing any of his opponent's knights or by getting his knights into any of his opponent's castles.  Movement is based by the spin of the wheel.
The spinner has four different colored arrows which correspond to the player's knights.  A player moves according to the matched arrow's indication of number.  It is numbered 1 through 8.  Players can move in a straight line, forward, backwards, or sideways, but not diagonally.  The board contains five rows of twenty spaces in four ways.  Each knight's path intersects at center.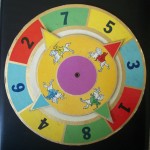 To make a capture of an opponent's knight, the spin of the wheel must indicate a number that will allow a knight to land directly in a space occupied by his opponent's knight.  There are two exceptions.  Any knight occupying a space of the golden field, or a knight in a castle, is safe from being captured by another.
Knights may be jumped or passed by during play.  Movement into a castle is by exact spin, unless the player has only one knight left on the playing field.  In this case, the player must spin a number which exceeds the amount needed to enter or have the exact.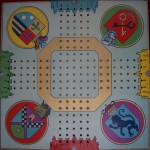 The game ends once all players have no more knights to move.  They are either all in castles or captured.  Some players may be eliminated during play if all his knights are captured.  The other players would continue to play to conclusion.
Points are tallied at the end of the game.  Each player scores 5 points for each captured knight.  A player receives 15 points for every knight he has been successful in getting into another player's castle.
Crusade is a game of strategy.  Played today, it is still a wonderful amusement and offers the feeling of being involved in history with both its theme and style.