End of School Fun and Games Gift Basket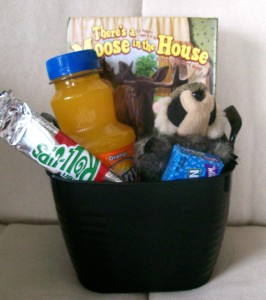 Giving an end of school fun and games gift basket is a great treat for the kids.  The collection of fun is one way to show you appreciated the hard work they did through the year.  It will also give them something to do during the summer.  So when they say, "I'm bored", you can say, "well, let's play that new game!"
There are two ways you can go about making an End of School Fun and Games Gift Basket.  The first is to choose a game appropriate for each of your children's ages and include that in a basket.  Or the other way is to add one central game that the whole family can play to the fun arrangement.
For the one central game basket, a cooperative game works well.  All players, of all ages, work together on trying to win the game.  The cooperative play allows younger players to work easily with older players without feeling the game is too complicated.  The older players enjoy competitive play with the mechanics of the game; they are able play to their level of skill and won't feel like they are playing a too simple of a game.  Two of my favorites of these types of games are Castle Panic and Forbidden Island.
Either of these games can be placed in the center of a decorative container. This is then surrounded with other inexpensive items. These items could include snacks, like microwave popcorn for munching on while playing the game, your children's favorite chocolate bars, or additional fun candies.  Fruit juice boxes, standard deck of cards, stickers, small treat bags (one special for each child), pencils, are a few more suggestions to gather.
For the multiple game basket, choose a game which matches the interest and age for each of your children.  Position these in the one large container, and fill the empty space with other small items. The same items listed above can be used.
Ideas for games are listed in the Ten Best Games for Younger Children, Ten Best Games for Kids which Involve Animals, Ten Best Wizard Games, or Top Ten Classic Games.  Spy Alley for the 'aSPYring Spy, or Lego games for a Lego fanatic are ideal.
In either of these baskets, a special scroll, describing a 'prize' could be created as a gift and added to the basket.  The prize for completing the year of school could be a trip to the movies, time spent together doing their favorite activity, trip to an amusement park or any other special amusement. To make this, simply write on a piece of paper (using colorful markers), a description of the 'prize'. Then roll it up and tie the scroll with a piece of string.  Be sure to include how proud you are of them for finishing another fantastic year of school!
Giving the End of School Fun and Games Gift Basket is more to say you noticed they worked hard during school and it's time to celebrate.  Kids will love the thought, and it certainly doesn't have to be anything huge or expensive.  Even a basket with a deck of cards, their favorite candy bar, and a 'scroll' to say 'Pick a Game Night' can share how special they are.  Most of all, just have fun!