Game Night Ideas for a February Get Together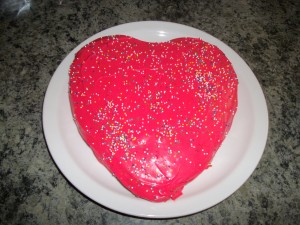 After getting on board with January's game night ideas, stay on track with planning a February get together.  Obviously, because Valentine's Day is in the month of February, hearts of all sorts can be used to theme the fun and games occasion.
Red paper products (plates, cups, napkins) are used to help set the scene for a 'hearty' night of excitement.  You might also want to hang a few hearts around the room to add to the February atmosphere.  Browsing any store during this time of year will provide easy and inexpensive decorating items for use.
Ideas for game night snacks includes dusted heart brownies or a heart-shaped cake.  These can be added to any refreshment table.  Another tasty treat that works well is cheese and crackers. To make this a themed treat, slice the cheese and use a heart mini cookie cutter to punch out heart-shaped cheese.  Both the cut-out and frame are placed on a plate (or directly on the cracker) and served.  For a family affair, Hawaiian or red fruit punch, spiked with 7-up, is fun to drink.
The following are some game suggestions which stay with the red hot theme and complete the night.
Careers Board Game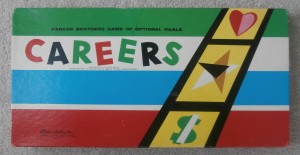 In the family board game of Careers, players begin by deciding on a 'secret success formula'.  This formula includes the option to gather hearts (happiness), and so makes it an ideal game to play on this special themed game night. Careers is commonly found on eBay and can usually be purchased on the site for less than thirty dollars.
Each player, at the start of the game, chooses his amount of 'fame (stars), happiness (hearts) or money (dollar signs), he needs to acquire during game play.  The overall formula must add to 60 points.  A player can choose all of one (example: 60 hearts) or a mixture of all (example: 20 hearts, 30 stars, and 10 dollars).
The game board of Careers consists of various side paths which help a player accumulate his own unique victory formula.   Fun for all and connecting to the night, Careers is its own 'success formula' for the evening.
Hearts Dice Game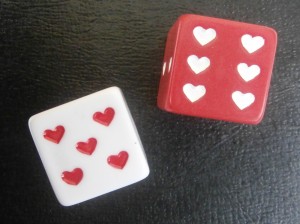 Although the 1914 game of Hearts is not available anymore in stores, this game can be found on Ebay, as well.  It can also be played with regular dice.  The article, Hearts Dice Game, explains how to play and how any dice are used.  Additionally, dice with heart pips could be used to play, which keeps with the theme for a February game night.  As a quick and fun game, Hearts is another suggestion for the family night of amusement.
Any Favorite Game
As the theme for the night is all about hearts, any game which players love is ideal to play.  If the chosen game uses dice, replace the dice with heart pip dice.  This adds to the charm.  Ultimately, the gathering together with family or friends, playing of games, and just enjoying the night makes a heartfelt time for all, whether it's February or not.   Plan a game night and have fun!