Game Night Ideas for Creating a Themed Party
Revive family game night or enhance a night of playing games with friends by creating a theme with the following game night party ideas.
Simple, but creative decorations, snacks, and music, inspired by the games played on game night, will enliven the time spent with family or friends and generate a more memorable occasion. The game filled atmosphere will have players eagerly ready to roll the dice, deal the cards, spin the wheel, press the button, or do any of the other many things involved in playing games.
One of the first helpful decisions for developing a theme on game night is choosing the type or kinds of games in which to be played.  Many of the decorations and snacks can then be based off and reflect these games.
For example, is the game night going to include card playing?  If so, theme the surroundings by decorating with cards and baking Dusted Heart Brownies.  It doesn't take much to create a favorable, motivating, and appealing setting for game players.  Instituting a few easy extras will suit wonderfully.
What about a game night of playing dice; like Bears! or Martian Dice or Bunco?  Baking a Cake to Die For is then ideal and makes a great centerpiece for other snacks.  By planning and displaying only this one simple item, game night is boosted.  It not only is a tasty treat but acts as a decoration for the refreshment table. Gamers will love it.
Another game night idea is to choose games all with the same subject matter.  Decorating and offering snacks related to the type of games matters here.  For example, plan the night to include only or mostly pirate games.  Decorating in the theme of pirates would be appropriate for this type of game party.  A natural sounds CD playing 'Ocean Waves' softly in the background, would add to the setting.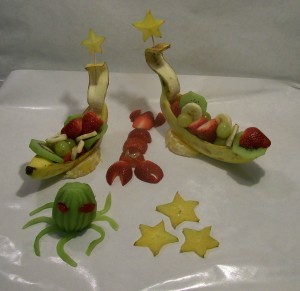 If games about the outdoors are played, (like the Camp board game or Don't Bug Me card game or Skunk dice), a CD on sounds of a Summer Night can be listened to in the background.  Dirt Cake, Mud Pies, or Bug Cupcakes make interesting treats for this occasion.
The fruity word games of Bananagrams, Appletters, and Pairs in Pears can fill a night with fun.  Healthy Star Banana Boats or Pineapple Boats can be offered as refreshments while playing these games.  Welcoming guests with the sight of colorful fruit shaped streamers/garland, hanging across the doorways or room, is a fruitful addition.
Planning a game night and decking out the room with a few creative frills and snack ideas is a lot of fun.  Family and friends will admire the surroundings, be excited to play games; all while enjoying the special company and time together.  Game night will become an anticipated and eventful night for all.