Game Night Snack: Cheese Crackers that Suit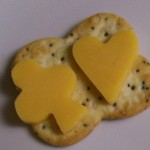 Although perfect for a night of card playing, Cheese Crackers that Suit makes a terrific snack for whatever type of fun and games are played.  Cards are universally known and so the card themed treat will add flare to any snack table for gamers.  Whether one is dealing out cards or rolling the dice, the fun platter will be welcomed.
Simple to make, they are sure to please both host and guest.  Like cards, cheese and crackers is a traditional item.  Forming shapes into card suits out of the cheese, though, will boost the ordinary tray.  All one needs in order to make the entertaining dish are cheese and crackers.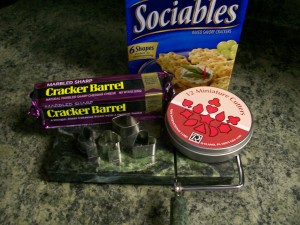 A rectangular block of Cracker Barrel cheese works great.  The crackers can be any type wanted or whatever type one has on hand.  A few of the following supplies are helpful, but not necessarily required.
Cheese slicer
Mini cut-outs in shape of card suits (Hearts, Diamonds, Spades, and Clubs)
Use the cheese slicer to cut the block of cheese into small thin squares.  The cut-outs are then pressed into the slices and both (cut-out and frame) are placed on the crackers.
If one doesn't have a cheese slicer, a sharp knife could be used to slice the cheese, instead.  And for cutting out the card suit designs, a toothpick can be used to etch the suits into the cheese.  Then with the tip of a sharp knife, the cheese cut-out can be completed.  If the cheese sits just a bit and the cheese sliced thinly, the toothpick can even be used to cut the whole shape out.  It works amazingly well.
If doing the cut-outs this way, the easier card suits (diamonds and hearts) are mainly used.  Since only the idea needs to be suggested, a few spades and clubs are all that need to be created (if any).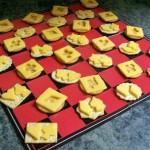 Using a checker board tray, instead of a normal dish will add even more to the display and help create the mood for a wonderful and fun night.  An inexpensive checker board can be found at most discount stores.  Covering the board with a clear plastic protector allows the tray to be used again and again for other treats on other game nights.  The checker board  platter is an excellent  item to have around and use on all game nights.
Preparing Cheese Crackers that Suit is merely a way to add some more amusement to the already fun and games.  Turning the ordinary cheese and crackers into something fun has never been so easy.