Give a Fun and Games Spring Gift Basket
Spring is coming and with it comes the perfect time for creating an outdoor activities, fun and games, spring gift basket.
For those who experience a cold, snowy winter, the arrival of spring is a welcomed change of weather. Having the opportunity to now spend more time outside, sends many families out fishing, camping, or simply out to enjoy the fresh air. There are still the rainy days though. In the need for something to do on those days, giving a spring fun and games gift basket provides some indoor, outdoor fun.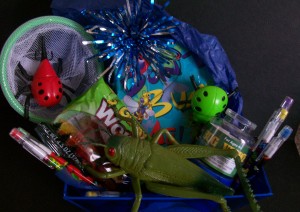 Bug Fun and Games Gift Basket
With spring also come the bugs. For children this is a chance to investigate and learn about the tiny (and some not so tiny) creatures which live all around them. Creating a Bug Fun and Games Gift Basket gives them some of the necessary tools in order to do so. And, on days when the weather is not co-operating, the Game of Don't Bug Me or The Ladybug Game will be just as fun.
Along with the themed game, a small basket or container can be filled with other variety of small objects. A bug net with a bug viewer or magnifying glass to kindly inspect the creatures after capture (and later released) are ideal items to add to the basket. A bag of gummy worms and pencils with bugs decorated on them are great too. A few large and small plastic play bugs will complete the ensemble.
Fishing Fun and Games Gift Basket
The fun and games gift basket can be given at anytime. A grandparent could give it to their grandchildren for the happy occasion of spring's arrival. Or it can be saved for the rainy day and be given as a surprise! It can even be given as a Easter basket.
Whatever way is chosen, a fishing themed spring gift basket is another option to create. The card game of Big Fish Lil' Fish fits nicely inside a container with a big bottle of bubbles or bubble wand sitting next to it. Add a bag of Swedish fish candies, goldfish, or gummy worms to the arrangement, along with a small fishing kit (bobbers, hooks, and sinkers) and it is complete.
Camping Fun and Games Gift Basket
Games are wonderful to play at any time, but on a rainy day while camping, they are especially nice. Giving the Camping Themed Gift Basket and taking it along when camping will ensure campers of all ages of having fun, rain or shine. Bears! the exciting dice game for ages 7 and up or the Ladybug Game for the smallest campers can be included in the themed outdoor array.
Fun and games gift baskets give recipients an amusing collection of items. But most of all it gives them the opportunity to play and spend time together; laughing and enjoying games all through of year!