Give an Eric Carle Preschool Fun and Games Gift Basket

Children love the wonderfully illustrated and amusing stories by Eric Carle.  Creating a fun and games gift basket which includes these cherished tales is made simple due to University Games.  They have published many games based from the lovable books of Eric Carle.  Placing any one of these games, with the book and/or other small item, in a decorative tote bag makes an ideal gift for a preschool child.
First published in 1969, the book entitled The Very Hungry Caterpillar is one of Carle's most famous and best-selling stories.  It inspired a board game with the same name in 2006.  The game of The Very Hungry Caterpillar has players traveling around a colorful board and transforming from a small egg into a beautiful butterfly.  The game brings the words of Eric Carle's into an interactive and entertaining activity for a family to enjoy together.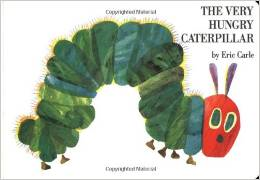 There is also a Very Hungry Caterpillar Match and Munch game.  This game receives better reviews than the first.  The adorable caterpillar game case creates an attractive addition for inside the gift basket.  Great for developing early learning skills, players of the game match food to feed the hungry caterpillar and collect butterfly chips to win.  If the child has the Very Hungry Caterpillar book, another Eric Carle story can easily be added.  There are several to choose from.  One of which is Brown Bear – Panda Bear, What Do You See?  This book has been made into a game as well, and can be used for the fun and games gift basket instead, if wanted.
Brown Bear – Panda Bear, What Do You See? board game introduces children to the art of storytelling.  The imaginative game helps children strengthen their memory and sequencing skills while constructing their very own tale.  Comprising of 4 bear cards and 32 animal cards, children have fun learning with the creatures of the game.
Another adventurous story and game combo which could be used for the gift arrangement is The Very Busy Spider.  In this game, players work together to create a spider web.  The cooperative game includes 20 fly cards.  A dry erase marker is used to draw lines of the spider web when players land on a colored and fly space.  Acting like a spider and building a web is a unique mission.
Children will also enjoy learning about, and playing the life, of a cricket.  Starting out as newly hatched crickets, players journey across the board of The Very Quiet Cricket game.   Moving from leaf to leaf, players discover other voices and end up finding their own cricket voice in the game, like in the Eric Carle tale.

Other games to look for which are inspired from Eric Carle's colorful world are The Grouchy Ladybug game, The ABC game, 123 Game, From Head to Toe game or Match-ominoes; to name a few.  There are so many games (and books to match) to pick from.  With knowing children love the lively characters, an Eric Carle's fun and games gift basket is for sure to be appreciated and enjoyed.