Give an Old Western Fun and Games Gift Basket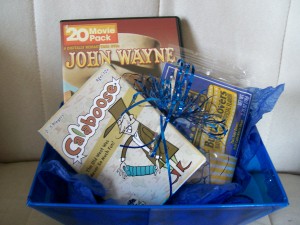 Games make great items to include in gift baskets.  Not only can they provide entertainment all year round, but there are many to choose from.  No matter what a person may like, a game can most certainly be found which features a person's likes.  Creating an old western fun and games gift basket, for someone who likes the west, is one such an example.
The western themed card game of Calaboose is a perfect choice for this kind of gift basket.  The inside of a cowboy hat may be used as the container, instead of the basket, for added appeal.  Including a western DVD and a few bags of microwave popcorn for snacking during movie or game time, completes the array.  It is simple to create, but offers a unique and thoughtful present to give.
Calaboose is a card game for 2 to 5 players.  Although recommended for ages 12 and up, younger children can play.  They may need help with understanding the directions and strategy at first, but once established, watch out.  They will be able to rustle up the bad guys as well (and better) as anyone older can.
Players of Calaboose (which is another word for Jail), compete to collect five cards from the deck of Bandits, Card Sharks, Hucksters, Cattle Rustlers, Gunslingers or Bad Lawman.  Each of these in a jail is worth a certain amount of bounty and is clearly marked on the cards.  A gang of prisoners (five of the same) in a player's Calaboose brings the biggest bounty for a player.  The winner of the game is the player who has the highest bounty at the end of the game.
On a player's turn, there are three options.  Players can place a card (prisoner) in his jail, send an unwanted prisoner to another player's jail, or lock down a prisoner in his jail.  A jail is the collection of cards in front of a player.  It is made up of five 'cells' and at the beginning of the game, all 'cells' are empty.
With the option to send unwanted prisoners into other player's jails, players continue to be involved in the game, even when it is not specifically a player's turn.  Players may need to defend their jails during other player's turns.  This causes game play, for all players, to be active the entire time.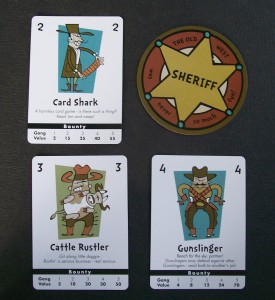 The game ends when a player runs out of cards, when a card is played which cannot go anywhere, or if a player has locked down all five cards in his jail.  Once the game ends, all players total up their bounties.   As shown, if a player has two Card Sharks, two Cattle Rustlers, and one Gunslinger in his jail, his total bounty is 29.  If a player had five or a gang of Gunslingers, his bounty would be 70.
A western fun and games gift basket, including the game of Calaboose, will be appreciated by those who love the west, but can be enjoyed by all.  That is one of the reasons why game gift baskets make wonderful presents.  The fun is always shared.