Give the Gift of a Game!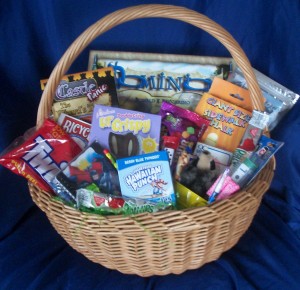 Games make great gifts to give to a child, friend, or even an entire family.  They bring people together and encourage all to have a fun time playing and spending time with each other.  Games are gifts that continue to provide enjoyment all through the years, and are often part of special and memorable moments.
Creating a fun and games gift basket to give as a present is simple. The container for the arrangement, the game, game snacks, and a few added items to draw together a theme is all that is necessary.
Since many families have the classic board games already, choosing other great games for the gift is needed.  In a previous article entitled Ten Best Fun and Games Gift Baskets are some wonderful ideas for making some fantastic arrangements.  However, the following are a few other suggestions for creating a Family Game Night Fun and Games Gift Basket.
One of the best gifts is giving laughter and fun.  A Family Game Night Fun and Games gift basket does just this.  In a basket, place snacks to munch on during game time.  Gourmet popcorn, flavored pretzels, crackers, beef or cheese sticks, and other non-messy foods work well. Drink mixes are added too.  These should be positioned surrounding the featured item: The fun game for the family!
Ages and the likes of the players are important considerations for choosing a game.  The game decided upon also helps with picking and placing items, since these can form a theme for the exciting assortment.
Does the family enjoy animals?  If so, then a game involving animals is ideal.  Zoo Panic is fun for a family with younger (4-7) children.  A family with older children would enjoy Zooloretto.  Although a game in a basket with various snack items makes a great gift, additional items can be placed to highlight a theme.  To tie together the game and the overall gift, a national geographic movie involving animals can be placed amongst the snacks and game.  Other suggestions are animal stickers, notepads, or pencils.  And in place of pretzels, add animal crackers as a snack instead.
Does the family like to go fishing?  For this case, a game gift basket includes a game and items centering on a fishing theme.  Snacks, such as goldfish or Swedish fish, are fun to use (along with other snacks and drink mixes).  The game Hey, That's My Fish, Fish Eat Fish, or The Playchest Games of Go Fish are exciting games to feature.  And last, but certainly not least, actual fishing supplies are also part of the collection.  All these items together form a fantastic fishing fun and games gift!
Does the family enjoy the movies?  The game of Scene it! (comes in various editions) with snacks tastefully placed around it, and movie tickets to see a show makes another great arrangement.
Does the family like the beach? Pirate games, such as Loot, Pirate's Dice, The Search for Longbeard's Treasure, or BeginAgain Treasure Hunt game, with sand toys (if little ones in the family) or with sunscreen, beach towels, and Frisbee (for families with older children), makes a fun array.  Snacks can include gold chocolate coins, along with the usual munchies of popcorn, pretzels, or chips.
No matter which fun and games gift basket idea one chooses to give as a gift, the family receiving the present will appreciate and have fun for years to come!  It is a gift that keeps on giving fun year after year.  And each year, another one (different game and theme) could be given.  The receivers start to look forward to it!!
Please feel free to Like/Follow All About Fun and Games for continuing ideas and information on Fun and Games!
Other suggested posts:
Create a Christmas Fun and Games Gift Basket for a Family
Eric Carle Preschool Fun and Games Gift Basket
New Year's Eve Fun and Games Gift Basket