Go Nuts! on Family Game Night

Everyone will have fun with the game of Go Nuts!  This fast paced dice game is perfect for playing on family game nights when time is short.  It is one of GameWright's 12 minute games.  Rolling out lots of excitement, and simple to play, Go Nuts! gives both younger and older players an equal chance to gather the most acorns and win the game.  And no matter who scurries to gather the most acorns in the game, players can all enjoy a specially made treat of Sticks and Acorns for after the rush.
Go Nuts! consists of a score pad, pencil, and 9 special dice.  Four of these dice have one side displaying a Dog and five sides showing a House.  The other five dice have two sides showing Acorns, three sides with Squirrels, and one side with a Car.
Each player receives a 'dog die' and takes turns rolling the Acorn dice. A player begins his turn by rolling the 5 dice showing Acorns, with the goal to receive (and keep) as many points given for each Acorn rolled.  He can continue rolling, adding more points, until he chooses to stop or has rolled five cars.  Each time a car is rolled it is set aside and only the remaining dice are rolled.  He can choose to stop rolling and take the Acorn points accumulated at any time.  If he presses his luck, and ends up rolling 5 cars before stopping, he loses all points he had accumulated for the round.  This aspect is similar to the 1953 Skunk dice game.
If during a player's turn, he rolls all squirrels, then his turn becomes a Go Nuts! round.  The player yells, 'Go Nuts!' and begins rolling the dice and getting points for each Acorn rolled.  At the same time, the other players each roll one of the 'dog dice'.  This round is over once all players have rolled a dog, and yell, "Woof, Woof".  The player then receives the Acorn points accumulated for his turn.
Since each player receives one of the dog sided dice, this game pack accommodates up to 4 players.  However, players could take turns rolling the 'dog dice' and allow more players to play.
The object of the game is to reach 50 points.  The first player to do so wins the game.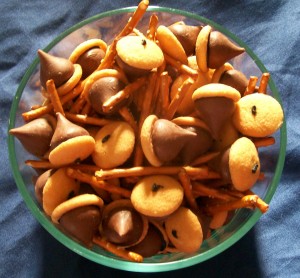 High, and even low, rollers are sure to get hungry and want a snack after playing the game of Go Nuts!  Sticks and Acorns is just the treat for this crazy bunch of squirrels.  Full directions are explained in Serve Edible Sticks and Acorns, but the Acorns are easily made with mini vanilla wafers and Hersey Kisses stuck together with a dab of cookie icing.  The Sticks are simply pretzels sticks.
Placed in a bowl together, Sticks and Acorns will cause the squirrels to Go Nuts again.  But go ahead and Go Nuts!  Gather the family around and have a fun filled and nutty time together!
Feel Free to Follow/Like All About Fun and Games on facebook for continuing information and ideas on Fun and Games!