Halloween Fun and Games Gift Basket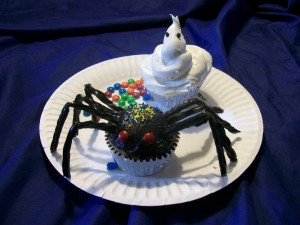 Kids love to get candy on Halloween.  So why not mix a few other sweet things in a Halloween fun and games gift basket and give your kids something extra special to enjoy at home.  The array will create a concoction that makes planning a Halloween game night charming, easy, and thrilling for everyone!
A plastic pumpkin or a black cauldron is the ideal container for presenting the gift's surprises.  Placing a themed Halloween game, or two, inside, along with your children's favorite treats to snack on during the game night of fun, gives all that is needed for having an exciting time to be later shared with the entire family.
There are lots of great board and card games to play on Halloween.  However, not all of these will fit inside the pumpkin or cauldron gift container.  So picking one that does fit is like finding the right ingredient for the mix.  The following are a few suggestions.
The Ticket to Ride Halloween add-on set is one perfect choice.  For those who are unfamiliar with the Ticket to Ride board game, more can be read in the article entitled All Aboard.  The Halloween set includes pumpkin trains to use instead of the original pieces found in the award winning game.  It is an inexpensive way to spruce up a game night and plan a special get-together.
Frog Juice, or Rats! are both small sized games that would fit the Halloween theme and also fit in the container.  Frog Juice has players casting spells, and doing other 'witch' things; while Rats! is all about the witch's well-known pet. These games hold the magic elements for an enchanting evening of competition!Spot It! mentioned in Best Games for Halloween is another compact game box which could be placed inside the gift arrangement. It comes with a Halloween theme.
Great Pumpkin Charlie Brown Yahtzee is another to consider.  These quick learning and playing games pack lots of high spirited fun in their small way.
Wizard games are good choice to play on a Halloween game night as well.  Wizard or Fantasy Wizard are two card games that can be easily slid in with the treats of the basket.  They bring just the right mixture of strategy and luck to the arrangement and the game table.
Baking a few extra treats for the ghostly occasion can add even more fun to the game table.  Spider cupcakes (shown above) are easy to make and children love them.  To create these creepy and delicious treats merely spread black icing onto a cupcake, dash the top with a few colorful sprinkles for a 'hairy effect', add two red eyes, (MM's), and attach eight licorice legs. Setting these on the table definitely causes a bit of amusement!
Playing the games in dim lights or with a candle in the background, is another way to make it feel like an extra spooky occasion!   No matter what is chosen to done on the game night, giving a Halloween fun and games gift basket is one way to certainly raise spirits.
Please Like/Follow All About Fun and Games for continuing information and ideas on Fun and Games!