Have a Back to School Themed Game Night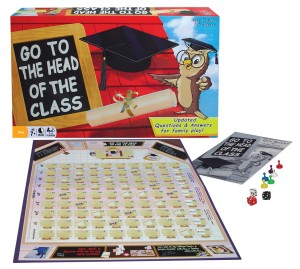 The mention of the words 'back to school' may have kids form all kinds of gloom and doom faces.  Planning on having a back to school themed game night, however, will turn those frowns, upside down!  And a night filled with games that amusingly educate will remind kids that learning is fun.   They might even get excited to go back to school!
Go to the Head of the Class is one game that is great for playing on this special night. Recommended for 2-6 players and for ages 6 and up, it provides the perfect activity for family and friends.  The game was first published by Milton Bradley in 1936, and was later re-vamped in 1986 on its 50th anniversary. It continues to be a favorite of many.
Like the original, the school themed game offers challenging questions to players on different skill levels.  The previously published game had Junior and Senior Quiz questions.  The newer version now comes with three levels of interesting questions; Student, Scholar, and Graduate.  Answering correctly moves a player from the back of class towards the head of class.  The first player to the head of the class wins!  This game will for sure get kids back in shape for school cheerfully.
Trivial Pursuit is another game suggestion to play for the night.  A family edition is available to enable both younger and older ages to play together. The game is recommended for 2 or more players and for ages 8 and up.  It includes 300 question and answer cards in the following categories; people and places, entertainment, wild card, science and nature, sports and leisure, and history.  Learning, while playing and having fun, encourages positive thoughts for going back to school.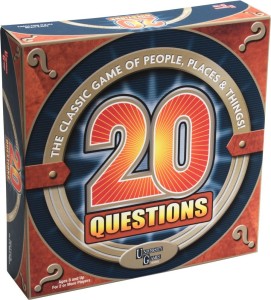 Kids will also love playing 20 Questions.  It challenges players to guess the hidden mystery answer by asking as few questions as possible.  The least amount of questions asked allows a player to move the furthest along the game board's path in order to arrive at the winning space the fastest.  Players attempt to identify the mystery person, place, or thing, from topics of history, entertainment, and sports or culture.  It is an entertaining game for all ages.
And we shouldn't forget Mastermind, which is a classic game to choose.  This competitive two-player game is for ages 8 and up. Players try to break their opponent's code first for a win.  Each player begins by secretly placing any four colored Code pegs in the concealed area.  Players then take turns trying to correctly deduce the other player's code.  Playing this game helps with logic, memory, and deduction skills which help get kids prepared for school and is fun to play the whole year through!
All games teach, develop and expand kids (and adults) minds.  A back to school themed game night can actually involve playing any game a family has in their game closet.  A family can choose to pull out any of the classic games they might have.   The joy is found by spending a fun night together.  This is always a great activity to plan, especially before the finding of this time becomes harder to come by after school starts.
Have fun with games always!