Ideas for Game Night: All Aboard!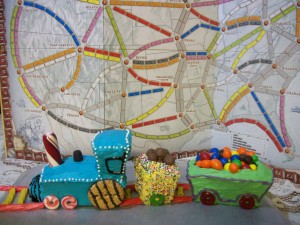 Creative ideas, used on a game night, makes an inspiring and inviting atmosphere for the playing of games.  The following post includes a theme centered on trains.  Get family and friends on board for enjoying a night of games each month. Set a date, plan the night, and tread full steam ahead.  It's the winning ticket!
Establishing a themed game night includes just a little planning. Choosing to play games, which relate to the creative decorations, and snacks being served during the night, sets the stage.  With only a few simple preparations, an ordinary night of playing games is turned into an extra special night. The evening brings together all that is involved in having a great game night; especially family and friends.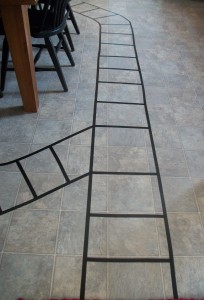 Using trains as the theme, everyone can start on the right track by applying a decorative railway to the floor.  Black tape is positioned on the floor to form train tracks.  The tracks can greet friends at the door to guide them to the game table, or they can be placed around the family table.  Where ever they are put, they will add an amusing touch for the train themed occasion.
A few, simple 'train car snack boxes' will help set the scene, as well.  Children love to help with this project and it gets them involved in preparing for the exciting gathering.  Decorate a couple of shoe boxes to look like train boxcars and use them for serving nuts, chips, or other munchies.
The boxcars can then be placed on a track of their own. Pretzels rods are used (joined together by dabs of cookie icing) to make a track for eating, or if for appearance only, use black construction paper to design a paper railway.  Either way presents an appealing display.
For another easy decoration, cut out a circle from a piece of yellow construction paper and draw the railroad Xing sign.  A few of these can hang from the ceiling.  A big one could be placed on the door, or if laminated, they can be set on plates for the serving of snacks.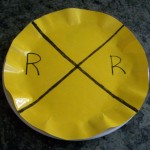 A train engine cake can be made to position in front of all the snack boxes.  Or instead of decorating boxes, a full train cake (shown above) can be made by using mini loaf baking pans.  Mix up a batter of your favorite cake recipe and bake in the mini pans for the formation of the train cars.  Once cooled, the decorating of the Train Engine and other railcars begins.
So with decorations and snacks ready, all that is left to do is to decide on the game or games to play.  Staying with the themed night, the following are suggestions of some train games for all ages; beginning with the youngest:
Thomas Making Tracks Game (recommended for 2-4 players, ages 4 and up, about 15 minutes to play)
Whether Thomas fans or not, children will enjoy creating tracks to move their Thomas and friends game pieces across. The Thomas Making Tracks game consists of the board, 72 track tiles, 4 engine game pieces and a spinner.  Taking turns, players spin the wheel, lay tracks, and race to the center in order to win.  Working on a railroad is bound to be fun for all!

Rivers, Roads, and Rails by Ravensburger (recommended for 1-8 players, ages 5 and up, about 30 minutes to play)
Another award winning game by Ravensburger, Rivers, Roads, and Rails has players connecting an intricate network of paths.  Consisting of 140 tiles, depicted with, of course, rivers, roads, and rails, the game challenges players to match the various methods of transportation correctly in order for all traffic to move freely.  The winner is the first player to use up all of his tile cards.  It is a wonderful matching tile game for all.
Mexican Train (recommended for 2-8 players, ages 8 and up, about 30 minutes to play)
Let the games begin with the sound of 'choo-choo'.  Sure the Mexican Train game is dominoes, but hey, it fits the theme and dominoes are always fun to play.  They make a nice, relaxing, evening of friendly competition.  All can enjoy a game of dominoes by coming aboard with the Mexican Train game!

Age of Steam (recommended for 3-6 players, ages 13 and up, about 2 hours to play)
Age of Steam, with the length of time it takes to play and strategy, isn't for everyone.  Some families, consisting of smaller children or non-gamers, may not have enough steam to play. However, for those families or friends who enjoy a full and competitive night of games, this game fills the night with sights and sounds of trains.  Age of Steam is considered one the best games and is a perfect game for dedicated players to spend a train themed time together.
Ticket to Ride (recommended for 2-5 players, ages 8 and up, about 45 minutes to play)
Ticket to Ride is an ideal game for families with both teens and children a bit younger playing together.  Using a game board mapped with the United States, players compete to claim routes between cities.  The object of the game is to obtain the highest score based on completing these paths across the states.  There are many versions to Ticket to Ride.  The expansion games use maps of different countries.  A family, playing Ticket to Ride (in various versions), travels around the world together, and has a blast doing so right at their kitchen table.
Of course games are played, at any, and many times during a month.  But, planning and setting a goal to gather family and friends together, one special night a month for a themed game night, is definitely worthwhile.  The anticipated time encourages, strengthens, and develops relationships. Playing games on the occasion, while decorating and serving connecting treats, boosts the get together and builds excitement for the next time.  All will want to know, what is the theme for next month? It will for sure be a night of fun and games for all!