Milton Bradley's Game of Steeple Chase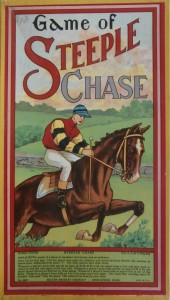 There have been numerous Steeple Chase board games published over the years.  It was a popular race game that included a theme enjoyed by many.  The following board game was produced by Milton Bradley in the early 1900's and offers charming images and provides a fun competition for players yet today.
The history for 'Steeple Chase' is believed to go back to the 1700's.  It was a form of horse racing that went from one Church Steeple to another; hence the name.  Found recorded, within the library of Dromoland Castle of Ireland, is the very first account known of such a race.  This race is said to have been a race from Buttevant Church to St. Leger Church in Ireland.  The 1752 wager, for who could arrive there first, was between Cornelius O'Callaghan and Edmund Blake.
Most Steeple Chase races of the present are competitions of which the course includes obstacles for the horse to jump over.  This type of track mimics the early country side steeple chases where riders had to travel across the rugged lands and navigate over ditches, fences, streams, and such.  The board game of Milton Bradley's brings this race to the table and players.
The cover of the box depicts a rider with a horse in action.  The horse seems to be in a jumping stance and rearing to win. It is a nice illustration and makes for a nice addition to any game collection display.
Taking the lid off the box, players will find the board pasted to the base of the box.  This was common during the time.  Many 'boards' were images applied to the insides of their boxes.
The track is true to actual Steeple Chase races.  Images of stone and wooden fences for players to 'jump' over are shown.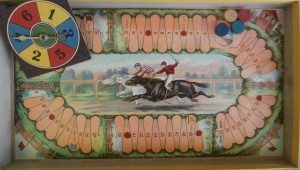 The directions state players (up to 4) choose a colored counter to represent their race horses and then take turns spinning the indicator. Players move accordingly to their spins.  There are a few spaces with additional instructions for players if they land on them.
If a player's horse lands exactly on 10, 20, 30, 40, 50 or 60, he loses a turn and goes back to where he was before this spin.  These spaces on the board are marked with a red circle.
If a player lands exactly on spaces 16, 34, or 49, he moves forward the spaces instructed on the space.
If a player lands on space 52 he is out of the game. The number 52 space is after a 'jump', so we can assume the player didn't succeed in making the jump correctly.
Players who land on 5 and 13, start over; and the winner is the player who reaches space 67 first.  This does not need to be by exact spin count.
Although the counters/game pieces in this particular edition of Steeple Chase are small wooden discs, there are some games, which are highly collectible, that consist of metal horses and racer game pieces.
Even so, this old board game is one that sits on a shelf in my house and is appreciated for the history it shares and fun it gives.
Have fun playing a Game Today!