New Cooperative Board Games for Younger and Preschool Children
Parents can add fun and games to their children's playtime with five new cooperative board games by Peaceable Kingdom.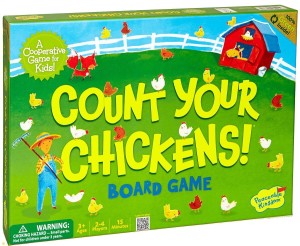 Parents who grew up playing Candyland or Chutes and Ladders and in want of a change can have it.  Recently published in 2011 by Peaceable Kingdom are five new games which can spice up any family's fun and games time.  Each game is cooperative. This allows players to strategize and work together as a team in order to win these latest fun games.
Count Your Chickens! (ages 3+)
The animal theme for Count Your Chickens! adds excitement to the basic play of this game. Baby chicks have been scattered across the farm and players are on a mission to safely return them all back home.  The game begins by placing the 40 chick tokens anywhere on the game board.  The players, working together and taking turns, then help Mother Hen gather her babies and place them back in the coop.
Movement of Mother Hen is determined by a spinner and her chicks are gathered based on the spin.  Following a path through the colorful board other friendly farm animals are encountered.  But players must watch out for the one animal which isn't so friendly! The Fox!  If a player's spin lands on the fox, then a chick is taken from the coop and placed back onto the board.
Recommended for ages 3 and up, Count Your Chickens is a wonderful first game.  While learning the basic skills of cooperation and counting, children playing the game will have fun strolling through the barnyard.
Hoot Owl Hoot! (ages 4+)
Although this game is officially recommended for ages 4 and up, younger players are able to easily play this cooperative fun game along with parents or older players.  The object of the game is for players to move all owls from start to finish (the nest) before the sun rises.  This is accomplished by the picking and discarding of color matching and sun cards.  The simple but time challenged play provides excitement for children playing Hoot Owl Hoot!
Lost Puppies, Mermaid Island, and Stone Soup (5+)
These last three cooperative games are recommended for children ages 5 and up.  However, depending on the child, they could be cheerfully played by children younger than 5 with just a bit of assist and some helpful suggestions.

Lost Puppies involves more strategy than Count Your Chickens or Hoot Owl Hoot, which is the reason why it is rated for older children.  Nonetheless, parents may want to include younger children in the game to introduce strategic thinking found in games.  Playing cooperative games is an excellent way to teach strategic movements to beginner children because players act as a team.  They won't feel singled out or bossed around.
The adorable and likable theme of helping Lost Puppies find their way home will have all players thinking and working together on a strategy to best do so.  The players must first find the puppies and then clear a path for them to get home before night falls.  The fret of night time arriving, has players planning together (not against each other) to get the lost puppies happily home.

Mermaid Island puts players on a mission to move 3 mermaids safely onto Mermaid Island without being overtaken by the evil Sea Witch.  Players take turns spinning the spinner and deciding together which move would be best.  The spin determines whether a Mermaid or Sea Witch will be moved.  Even with the addition of Wand tokens for the Mermaids to send the Sea Witch back a space, the race to the island is an adventure filled journey.
Lastly, in the game of Stone Soup, players work together to match up wonderful ingredients to mix in the large round cooking pot.  The fire burns brightly below but is slowly going out as the game progresses.  Racing to cook the soup before the fire disappears is a brilliant twist and addition to the standard memory game.
Any five of these new cooperative games by Peaceable Kingdom will enliven the family's game shelf.  Playing the same old games over and over again is not necessary.  There are lots of great first games which children can enjoy, and with so many to play; game time will continue to be a fresh and exciting learning experience.