New Year's Eve Fun and Games Gift Basket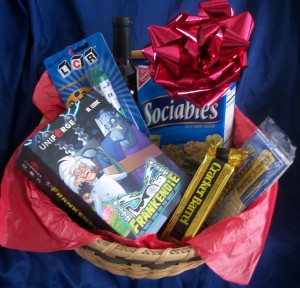 Going to a New Year's Eve party? Why not give the host or hostess a Fun and Games gift basket for all to enjoy. Simple to make, but offering lots of entertainment, the array helps start the New Year off with laughs.
Inside a decorative basket, gather together a bottle of wine, snacks to munch on during the evening, and a party game or two. This collection is finished off with a colorful bow to create an attractive assortment. Any host will be sure to appreciate the thoughtful items, and can add them to the enthusiastic night celebrating the arrival of the New Year.
The LCR dice game is ideal to include in the array. This small game can accommodate any number of players and is perfect for parties and large groups. LCR is quick and simple for all to learn and play. To begin each player receives 3 chips. Moving clockwise, players take turns rolling the dice marked with L, C, R, or a dot (left, center, right or stays). Depending on the roll, the passing of chips from player to player, passing chips into the 'center', or keeping chips still, is determined. The player left with the last chip is the winner.
Although the winner is decided by luck of the rolls, a prize offered at the end adds thrill to the game. Many party players choose to use money (most often quarters), instead of chips. The person, who is left with the last chip, would not only be the winner of the game, but also of the 'pot (center).' With lots of players, and each providing 3 quarters, one sees where the 'pot' could become quite valuable. LCR played with friends and family, during an evening of socializing, is highly enjoyable. (Recommended for 3 or more (or lots more) players, ages 5 to 105)
Frankendie is another fantastic idea to include in the basket. This newly released dice game is advertised as 'the party game for the madly insane.' Party goers are crazy for it! The game is recommended for 3-6 players, so smaller groups will have a blast attempting to become the winning Mad Scientist. They certainly will have a blast trying to decide who goes first. The person who cries, 'It's Aliiiiveeee' most convincingly goes first in Frankendie. This alone sets the stage for an amusing and exciting time.
In the game, each player competes with other players to be the first to assemble his objective 'Creature!' Racing to the graveyard, collecting required body parts, and giving creatures 'life', has players laughing into the New Year!
A fun and games gift basket is a thoughtful arrangement to encourage the playing of games and having fun. Enjoying and spending time with family and friends is a perfect way to bring in the New Year. So from here at All About Fun and Games, have a Happy New Year!