Opportunity Knocks in the Board Game of Careers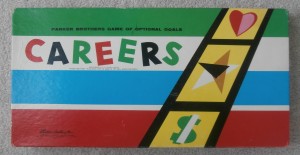 Take the opportunity and play the vintage game of Careers by Parker Brothers!  Like in life, each player chooses his own success formula in order to win. Careers was originally published in 1955 by Parker Brothers, but the game continues to be re-introduced and updated throughout the years.  And rightly so.  Careers is a favorite game of many!  It has a unique method of determining a winner and the play of the game is fun for all.
At the onset of the game, each player receives a small pad and pencil.  Along the top of each pad, a player fills in his own 'secret success formula'.  The winner is the first person to achieve his own determination for this 'victory formula.'
A player decides what his success formula for winning the game will be by choosing the amount of Fame, Happiness, and Money points he wants to earn during game play.  The overall formula must add to 60 points.  Movement on the board will then help each player achieve his own 'formula.'
For example, a player may choose the perfect balance of 20 Fame, 20 Happiness and 20 Money points for his 'victory or success formula.'   The board, which consists of many 'Occupational Paths', offers different opportunities for accumulating the needed amount of points for completing a success formula.
Going through the Hollywood path offers much more Fame points then say going through the Farming path (now Ecology).  The Big Business path offers more Money points to be gathered.  A player earns the points if they land on the spaces of the board marked with stars (fame), hearts (happiness), and dollar signs (money).
There is also a college path which will earn a player a degree and higher salary when passing 'Payday'. These degrees can in turn help a player enter an occupational path for free.  For instance, in order to enter the occupational path of Politics, a player must have 3000 dollars, political experience, or a Law degree.  (Experience is earned by previously entering the path once before).
So players move along the board, entering paths in which will help them succeed in their secret formulas, while learning about the many different opportunities and strategies there are in life.  Opportunity knocks every once in a while too.  Players landing on spaces of the board marked 'Opportunity Knocks' receive a card.  These provide players the options to enter the many different paths; either meeting the normal requirements or the 'Special Opportunity Cards' allow a player to enter for free.  Some opportunity cards will even double the points earned while passing through the path.
Careers with its unique method of play is a great game for family game nights.  The many different formulas which can be chosen provide a different game every time and why the game continues to be a favorite for many.