Plan a Ghostly Outdoor Game Night for any Night of the Year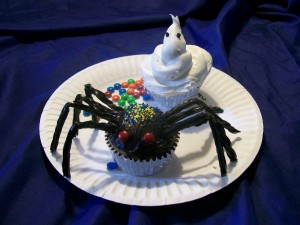 Hosting a ghostly outdoor game night will give all a thrilling time.  With spooky treats and a spirited game of Ghost in the Graveyard, the get together will be a night out of this world. Inexpensive decorations, like a tombstone centerpiece, ghosts, and black cauldrons, add enchantment to the evening.  Simple, but offering extraordinary fun, planning this chilling game night is for any time of the year.
Positioning a decorative refreshment table as the focal point for the gathering is enough to establish a ghostly theme.  Sure, hanging a few ghosts or skeletons around, or playing spooky music in the background will boost the mood, but are not essential.  A decorated table with a wide assortment of creative items will give off plenty of spirited feelings to all.
A tombstone centerpiece for the table begins the display and welcomes the guests.  This is made from a sturdy sheet of poster board being cut out in the shape of a tombstone.  A welcoming message or merely RIP is written on the front.  Flowers (fake or real) are placed in front of the tombstone.
Ordinary white paper plates, cups, and napkins are ideal. Since white is perfectly ghostly, there isn't any need to spend the extra money for fancy ones.  A few of the napkins can be fashioned into ghosts and scattered across the table.  These are easily made by forming a ball at the top, for a head, and tying a ribbon around the neck.  If ping pong balls are available, they make great heads to place inside the napkin.  If not, rolled-up paper balls work well too.
Black cauldrons provide perfect serving bowls.  Around the time of Halloween, plastic black cauldrons are easy to find.  Most discount stores have them available for trick or treaters to buy for holding all their goodies. These can be picked up and used for serving out chip, pretzels and other type snacks.  Be sure to grab a few extra cauldrons for creating Wizard's Fun and Games Gift Baskets throughout the year.  And you might want to keep them nearby for having a Wizard Themed Game Night on another day of year.  Cauldrons seem to be the perfect item for mixing and serving out fun!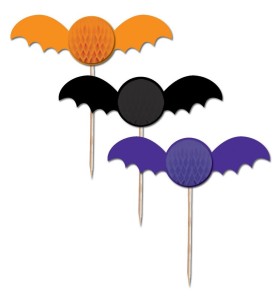 Using ghost, bat, and spider food picks on a tray of bologna and cheese slices is another appealing treat.  This again will enhance the snack table. Baking and creating decorative cupcakes will complete the display.  Ghost and Spider cupcakes (shown above) are made the following simple ways:
First bake the cupcakes using your favorite cake or cupcake mix. Once cooled, these are then easily formed into delicious tasting creatures.  For ghosts, white frosting is squeezed onto the cupcake top from either an icing bag with tip, or from the slit corner of a Ziploc bag.  Circling and lifting around the cupcake (like an ice-cream cone) creates the ghost shape.  Add two eyes and these are ready to disappear!
For spiders, apply chocolate or black icing to the top of the cupcake.  Sprinkles are added to produce a 'hairy' effect.  Eyes and eight licorice legs are attached.  Placing these ghost and creepy spider cupcakes onto the refreshment table, will not only provide decoration, but offers sweet snacks to keep the players of the following game energized.
An excellent game to play for a ghostly outdoor game night is Ghost in the Graveyard.  This outdoor game is played in the dark. Although similar to tag, it's much more exhilarating.  One player is picked to be Ghost.  The Ghost hides within a designated playing area.  Any place with a few trees, bushes, flower beds or other items is fine (it doesn't have to be a graveyard).  And if it is dark enough, a Ghost can hide by merely lying flat on the ground.
All other players, with eyes closed, count to fifty to allow time for the Ghost to hide.  After counting to fifty, players walk hand in hand around the 'Graveyard' waiting for the Ghost to suddenly appear. While walking through the 'graveyard', players looking for the Ghost, say, "One O'clock and the Ghost is not here, Two O'clock and the Ghost is not here, and so-on, until the Ghost frighteningly (but not too much) jumps out.  The game is now a game of tag in the dark.  Players immediately split up and each player runs away from the Ghost.  The person who is 'tagged' by the Ghost is then the next player to be the Ghost.
Offering a few correlating treats, decorating with a theme in mind, and playing a connecting game provides a night of entertainment.  Getting outdoors and enjoying an energetic and suspenseful time is wonderful to do any day of the year.  So go ahead and have a ghostly outdoor game night!  It's sure to be uplifting!
Play a game today!