Play the Board Game of Camp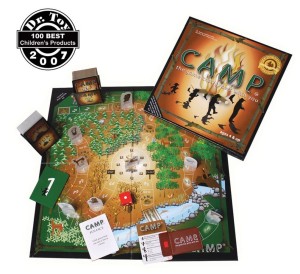 The award winning board game of Camp is an exciting outdoor learning adventure and fun for all ages. Families can gather around the campfire, follow footprints through the forest, and learn about nature, all at their own kitchen table. While taking only 20 to 30 minutes to complete, this game offers a quick, entertaining glance into the outside world.
The object of Camp is to be the first player to arrive back at the campfire's space. A player initially sets out through the forest (the game board), with his choice of one of 8 different animal characters. Determined by the roll of 1 extra large die, a player's piece will land on either a space with green footprints, a space with white footprints, or a clubhouse space.
If a player lands on a Camp Clubhouse space, he moves his piece to the Clubhouse position on the board and reads a Fun Fact Camp Card from the deck of 99. These cards give interesting 'fun facts'. An example of a Fun Fact card is, "Some fish can climb trees." After reading the card, his turn ends.
If a player lands on white footprints, his turn immediately ends, and the next person rolls the die.
However, a player landing on a green footprints space needs to answer a question from one of the 100 Camp trivia cards. These Camp Question Cards are a unique feature about the game. Each card is leveled from 1(easy) to 4(hard). Depending on the knowledge of the player will decide which question on the card will be given to him.
The design of the Camp trivia cards allows all players of various ages to be challenged. This is one of the reasons why this is a perfect game for family game night. The whole family enjoys learning more about nature based on their current level of knowledge.
With questions given from a range of difficulties (allowing each player the opportunity to learn something new), it is not hard to understand why Camp won one of Dr. Toy's awards. Taking into account several other qualities, like value, creativity, ease of play (all of which create a great game), Dr. Toy awarded Camp in 2007 the 100 Best Products Award. It also won the Hall of Fame Gold Award by Family Review Center in the same year.
The Camp board game was invented in 2005 by Tim Paczesny of Education Outdoors inc. He was interested in educating families about the wonderful experiences the outdoors has to offer. Although the game is great for all people to play, it provides the opportunity to learn about camping, wildlife, and nature to people, who wouldn't normally go camping. For these people, this is the best part about playing the game. Once the game is over, they can go to sleep in their own nice comfy bed at home. So go ahead and play the Camp board game tonight!