Play the Game of Freeze Tag in the Snow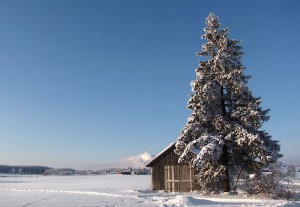 Freeze Tag can be played any time during the year.  However, playing this game in the snow, when temperatures are 'freezing', only seems right.  Kids will have fun getting outside and will enjoy running around while avoiding Mr. Freeze as best they can!
There can be a fun addition to this game when playing in the snow.  If handy, the person chosen to be 'It' should be given a bright Blue Mitten to wear.  This represents the hand of Mr. Freeze (Mr. Freeze is the person who is It).  He is only able to 'freeze' a player by using the hand covered by the Blue Mitten.  This is the hand with the power to instant freeze any player it touches.
For those not familiar with the original directions on how to play Freeze Tag, rules are as follows.  It is best played with at least 4 or more players.
One player is chosen to be 'It', and in this case called Mr. Freeze.  All other players try not to be tagged by him.
A designated playing area is marked.  This is one of the best things about playing the game in the snow.  Players simply stomp down the boundary lines.  When playing the game, all players must stay within this area.  If a player steps out of it, they are 'frozen' immediately and the frozen player must wait to be 'unfrozen' after he moves right back inside the line he passed.
If a player is 'frozen' (tagged by Mr. Freeze's hand with the Blue Mitten or has stepped out of bounds), he stands as still as possible to act like a 'frozen' person.  He waits to be made unfrozen by another player.  A player is unfrozen when he is tagged by one of his teammates who runs by and touches him.  Teammates should always try and help unfreeze one another, because if everyone is made frozen at once, then Mr. Freeze wins.
If a player is made 'frozen' 3 times, before all players on the field are made frozen by Mr. Freeze, then this player is now the new Mr. Freeze.  The previous Mr. Freeze passes over the powerful Blue Mitten to the new Mr. Freeze.  All players begin fresh and attempt to avoid the touch of 'Instant Freeze' from the new 'It' player.
There is another option of play, if they are available.  One Red Mitten, with the power to unfreeze/melt, could be given to each of the players trying to avoid Mr. Freeze.  If these are used, then players can only 'melt' a teammate who is frozen by using the hand with this red hot melting ability.
The addition of Blue and Red Mittens is an exciting addition for younger playing children.  They love the thought of being a Super Hero with special abilities.  The imaginations of players are helped with the uses of the mittens. However, they certainly aren't needed.
Getting outside and playing games in the snow is a lot of fun.  It warms all hearts.
You may also be interested in the following articles on other games to play in the snow:  Fun in the Snow Games and Snow Skee Ball.
Please Like/Follow All About Fun and Games for continuing information and ideas on Fun and Games!
Photo Credit-wikimedia-Petritap