Play the Scotland Yard Board Game on Family Game Night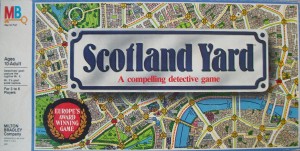 One of my favorite family board games is Scotland Yard.  The game was first published in 1983 by Ravensburger and then later by Milton Bradley in 1985 (shown left).  Today, Ravensburger continues to publish this cooperative style Detective and Mister X thriller.  It's a challenging chase and evade game, and has won numerous awards.
The game's scenario begins with a criminal, called Mister X, who is on the loose through the streets of London.  The city's finest detectives are on mission to track down and capture him.  One player acts as Mister X and works alone. His goal is to escape from all other players by secretly moving across the board.  The other players are Scotland Yard's trained professionals.
Since the detectives all work together to bring in the highly wanted fugitive, younger and older players play great together.  When playing the game with younger children, an older sibling or parent helps strategize the best move for him at the time.  This is done by all detectives.  The more the players plan, the better the chance to corner the player of Mister X.
I find Scotland Yard reminds me a bit of Stop Thief which was produced in 1979.  Although the detectives in this chase game do not cooperate with each other to catch 'the thief' (like they do in Scotland Yard), the thief's position is not always known and must be deduced by clues given during game play.  I actually love playing  both games for this reason!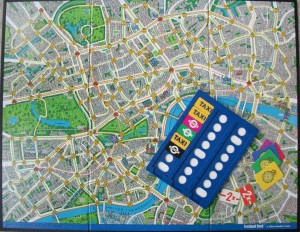 At the start of Scotland Yard's game play, each player (both Mister X and the Detectives) chooses a card to provide him with his initial position on the board.  The board consists of numbered spaces with varying colored paths between them.  The colored lines denote whether players move by 'Taxi, Bus, or the Underground.'  Players are given a supply of 'fare tickets' in order to travel across the board.  The detectives have a limited amount and so must work together on how best to use them to capture Mister X.  (Mister X has an unlimited supply and even a few extra tricks to help him escape)
Mister X does not place his piece on the board.  It is secretly logged into the logbook and on here his moves are recorded.  This logbook does reveal how he moves (just not where), though.  Mister X (unless using a 'black ticket' to hide method of movement) displays his tickets of Taxi, Bus, or Underground.  Every fifth move (after the 3rd), Mister X does completely reveal his location, and quickly disappears again.  Detectives use these clues to try and calculate where he is.
Tracking Mister X or being Mister X offers a fun and exciting challenge.  Working together, or alone as Mister X, provides a wonderful family game night.  Mister X wins if he can avoid capture during the game.  Detectives win if they can deduce where Mister X is.  They must also land on his spot before running out of 'fare tickets'.  If players run out of tickets, they can't move and the game is over.
Hide and seek, tag, spy, cops and robbers; so many games wrapped up in one great board game!  Family game night is energized by such an award winning and fascinating competition!