Question Mark Cupcakes for Game Night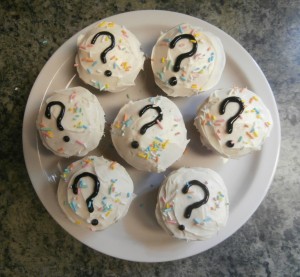 Game Nights are always exciting and fun.  Gathering together to enjoy friendly competitions with family and friends are some of best times spent, and are remembered for years to come.  The playing of games can work up an appetite, though, and so having some treats for the occasion is a must.
Non-greasy or non-messy finger foods, like pretzels, specialty crackers, or popcorn are ideal.  Players can grab a few bits of these to munch on while playing the game, and they won't get game pieces all sticky or have the game board get filled with crumbs.  But in between games, or before or after a player's turn or game, a heartier snack might be wanted.  And if playing a game that involves the answering of questions or the guessing of something, Question Mark Cupcakes makes a clever treat.
Question Mark Cupcakes are easy to make.  They can be used to help build an amusing theme surrounding the night.  Themed game nights add a special element and boost an already fun time into an extraordinary one.
The get-together can be planned to be a themed 'Question' Game Night.  The games played will all have players answering questions, or guessing (suggestions for games below).  The serving of the Question Mark Cupcakes, with Surprise Punch, and adding a few decorations with Question Marks around the game area completes the quizzical themed atmosphere.
To make Question Mark Cupcakes, you simply mix up a cake/cupcake recipe and bake the batter according to directions on the box.  Once cooled, you top with frosting, draw a question mark on with writing icing, and drop on some colorful sprinkles.  The tasty snacks make a sweet, fun, and amusing addition for the night!
Playing the mystery game of Clue or Scotland Yard fit the theme for the night.  For Clue, the Questions of 'Who killed Mr. Boddy?', 'With What' and 'Where'?!  definitely warrant the treat.   For Scotland Yard, players are trying to answer (and then capture), Where is Mr.X?! Another fun mystery game to play is Spy Alley.  Who is Who?
For a gathering with many people, the games of Pictionary, Kid's Charades, or Outburst relate.  If only two players, games like Mastermind,  Guess Who or Stratego can be played.
Of course, trivia games, like Trivial Pursuit or 20 Questions are fun to play and make the serving of Question Mark Cupcakes entertaining.
There are many games that fit the theme for when serving Question Mark Cupcakes.  They would actually work for any game night at my house, because the question always is 'What Game?'  There are so many to play and choose from, it is hard to decide.
Other game night snack ideas you might be interested for differing game nights are Scrabble Bites, Jenga Cheese Towers, or Checkerboard of Treats.
No matter what the snack, though, game night is always a wonderful and fantastic treat in itself.  Go ahead and plan one for tonight!
Please feel free to Like/Follow All About Fun and Games for continuing information and ideas on fun and games!