Snack on Game Night Mushroom Cookies for a Spellbinding Time
Mixing up a batch of Game Night Mushroom Cookies will help cast a captivating spell over all players during a themed magical game night.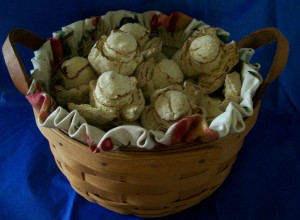 A themed game night of wizardry charm will certainly be enhanced by serving out a basket of Game Night Mushroom Cookies.  Authentic looking mushroom-like snacks will have players feel they are eating the ingredients to an exciting, suspenseful, and tasty good concoction.  The fun and games, along with the correlating and other delicious treats, will have players enchanted and quickly wondering where all the time went.
Games, like Grimoire or Frog Juice, are perfect to play on this magical themed night.  Both games involve the mixing and casting of spells.  While striving to become the best sorcerer or sorceress, extra energy and power will be needed.  The Game Night Mushroom Cookies offer this added necessity.
In order to make Game Night Mushroom Cookies, the following ingredients are needed:
1/2 stick butter
1/2 cup sugar
1 egg
1 tsp. vanilla extract
1 ½ cups corn starch
1/2 cup all purpose flour
1 tsp. baking powder
4 tbsp. cocoa
1 tbsp. water
These are combined, stirred, and mixed by the instructions which follow to produce the spellbinding effects.
In a cauldron (or one can use a mixing bowl), smash the butter with the sugar.  Toss in an egg (preferably of a chicken) with the drops of vanilla extract.  This potion is now ready for the corn starch, flour, and baking powder to be added.  Kneading the dough will then prepare the mixture for the final steps.
Shape ping-pong ball sized orbs from the dough and set on cookie sheet.
In two small cauldrons, place the 4 tbsp. of cocoa in one, and in the other, sprinkle the water.  By using the rim of a plastic water or soda bottle, the stem and cap of the mushroom will be created from the dough balls.  First dip the rim of the bottle into the water and then dip into the cocoa.  The cocoa covered rim is then pressed into the center of the cookie ball.  Be careful not to press all the way through the dough ball for the spellbinding form would then be broken.
Bake at 375 degrees for 25-30 minutes for the Game Night Mushroom Cookies to be complete.  Once cooled, they are ready to eat and the fun can begin.
Other games to play on this sorcery filled night can be Wizard or Wizard's Gambit.  Either one of these games, along with a bag of Game Night Mushroom treats, can be added to the Wizard themed fun and games gift basket.
Family and Friend game night will have all the ingredients needed to charm any one, with the adding of a theme, consisting of potions, casting spells, and tempting treats.