Ten Best Camping Games to Play
In the event bad weather has you lounging around the camp site for a bit, or if wanting to gather around after a long day of hiking, swimming, and fishing with friends and family, packing a couple of the following ten best camping games for the trip is a must.  They are a welcomed addition.
Many of the popular board games, that have lots of small pieces and large boxes are not always the best option to take on camping trips. However, there are lots of other exciting games to play which are durable, compact, and some even washable!
But, remembering to pack some special treats for the trip and this special game night is a fun thought too.  Edible Stick and Acorns or Game Night Mushroom Cookies will boost any time of games.  The camping themed snacks, along with one or more of the following suggested games, keeps the fun moving right along; no matter what the weather turns to be.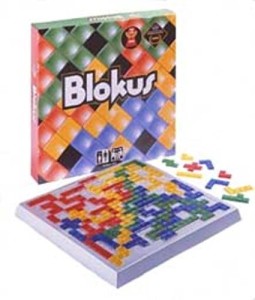 Blokus (recommended for ages 5 and up, 1-4 players)
Campers setting up this board game on a rainy day at camp will not need to worry about the pieces getting wet or warped.  The durable plastic board and pieces will only bring in the excitement and fun and leave the dampness behind. Blokus is ideal for families too.  Players strive to place as many pieces as they can onto the board, by connecting the different tetra shaped pieces corner to corner.  Easy enough for children but challenging enough for adults!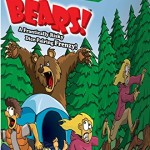 Bears! (recommended for ages 7 and up, 2-4 players)
Because of the theme, Bears! makes another perfect game to take and play on an outdoor camping trip.  The fact the game consists of lots of dice (which can be washed), lets only the good times to be rolled.  The concern of being stampeded and eaten by bears in the game is all that matters.  Players grab for dice rolled in the center of the table all at once; deciding to run, shoot, or hide in tents from the bears!  Anyone who has played 'spoons' or the old game of 'spoof' knows it is not merely the bear claws one has to watch out for!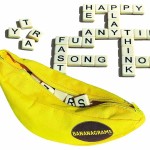 Bananagrams (recommended for ages 7 and up, 1-8 players)
The 144 plastic letter tiles for bananagrams fit snugly in a small banana shaped pouch, but include a huge amount of excitement for lots of players.  Fantastic for different age levels, the forming of either big or small words, keeps all players peeling for more.
Cards
Families can't ever go wrong with packing a simple standard deck of cards.  Multiple games, for various ages, can be played.  Small and compact, a deck can fit into any backpack or space and be grabbed at any time wanted.   Go Fish!, Crazy Eights, Rummy, Speed, or with lots of decks, Nertz, can be played; to name but a few.
Skunk (recommended for ages 4 and up, 2 or more players)
Two dice, a pencil and pad to keep score, and the readiness for suspense and thrill, is all that is required for this game.  As players take turns rolling the dice, they have the choice to stick with the first points rolled or continue to accumulate points if 'the skunk' did not appear.  But watch out, if a player pushes his luck too far, he may be Skunked and earn zero points for the turn.  If a player ends up rolling two skunks (the number one if using regular dice), he is completely Skunked.  Not only his points for the turn disappear, but for the game.   He needs to start all over again and that really stinks!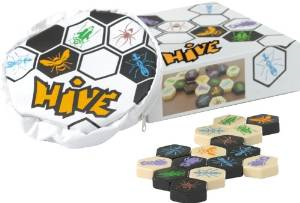 Hive (recommended for ages 8 and up, 2 players)
Comprising of 22 washable pieces, Hive begins creating its own board as soon as the first piece is set.  11 black and 11 white hexagonal pieces are moved around any flat surface in the goal to surround an opponent's 'queen bee'.  Highly addictive, stimulating, and strategic, this game quickly passes the day or night away.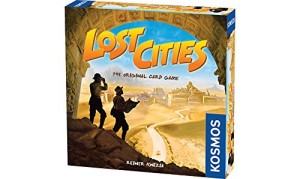 Lost Cities (recommended for ages 10 and up, 2 players)
Although the game comes with a small rectangular board, it is not essential to play.  Campers who know how to play the game, can pack just the specialized deck of cards.  This is a great option if hiking to 'camp'.  The different adventurous theme of traveling to remote areas found in the game of Lost Cities offers players a daring imaginative time!
Gobblet (recommended for ages 7 and up, 2 players)
Gobblet is a competitive two player game which two players strive to get four in row, before being gobbled up by the other player's pieces.  A tactical game of fun, time spent waiting for a rain storm to pass, will for sure be gobbled up.  With the game being completely wooden(box and pieces), there isn't any need to worry about the game being broken or damaged from the ruggedness of 'camping'; another reason which makes Gobblet a great game for camping.
Camp (recommended for ages 4 and up, 2-8 players)
Learning about all the different things about the great outdoors, while being there, is wonderful fun.  Racing through a forest and answering trivia type questions which were cleverly created to adapt to the skill of each player by including various levels, Camp provides adventure for family and friends. The player to be the first to return back at the campfire is the winner of the game.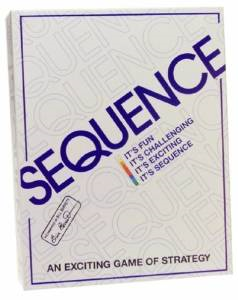 Sequence (recommended for ages 7 and up, 2 or more players)
Sequence consists of a game board with spaces which depict the faces of playing cards.  Playing in teams or separately, the goal is to form a sequence of five chips in a row.  Players take turns placing chips on the board which correspond to cards played from their hands.  Players need both a bit of luck and strategy to win the game.  It is the perfect balance of fun and games for all.