Ten Best Fun and Games Gift Baskets for Christmas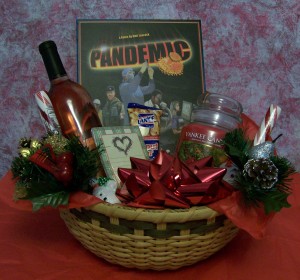 Creating a themed fun and games gift basket makes a wonderful personalized gift for Christmas.  Depending on who is receiving the gift will determine the games and other items placed inside the decorative container.  The themed array will show the gift was especially made for the person(s) in mind and provide a thoughtful, cherished, and entertaining present.
Fruitful Fun and Games Gift Basket for Family
Fruit baskets can make ideal gifts for families.  But, why not turn the ordinary fruit assembly into something extraordinary by providing fun all year round?  It is as simple as adding one or more 'fruit' games to the arrangement.  The games of Bananagrams, Appletters, and Pairs in Pears are perfect choices for this fruitful display.  These family games come in fruit shaped cloth pouches and can be positioned amongst the fruit.  All three can be added to a large assortment or only one can be chosen for a smaller array.  No matter what size, the fun enjoyed playing the game(s) is the same.  Fantastic!
Fun and Games Gift Basket for a Couple
Placing a two-player game in a basket begins the array for creating a personalized gift for a couple.  A Christmas ornament, peppermint sticks, and a Mistletoe sprig, along with the couple's favorite bottle of wine, scented candle, gourmet cheeses, crackers, and any one of the games Jaipur, Pente, Hive, Lost Cities, or Battle Line, are added to complete the attractive Christmas arrangement.
Fun and Games Gift Basket for the Single Business Person
Everyone can enjoy a game; even by oneself.  Sometimes they are the perfect activity to relax and relieve stress from a busy day.  Placing the Blokus inside a basket, lined with not only tissue paper but the Wall Street Journal, starts the specialized creation for a single business person.  Other small items, like treats, notepads, or a Christmas CD, can be added.  Games which can be played both solitary, and with other players, make another great option for the included game.  Pandemic, Castle Panic, or Arkham Horror, are games, which if company comes to visit, they can be enjoyed together, as well as being played alone.
Fun and Games Gift Basket for Travelers
Instead of using a basket for holding the collection of items, a tote bag can be used instead.  This is ideal for a fun and games gift basket for travelers.  Each time they leave for a trip, the bag with games is ready to be grabbed.  The following games will offer fun on a rainy day, provide something to do while waiting for a delayed plane, or add excitement in a boring hotel room.  With a traveling theme, Lost Cities, Touring (vintage game found on Ebay), Forbidden Island, or Rush Hour are suggestions to slip inside the tote.  A deck of cards, small dice games, travel sized Boggle, and pencils and notepads for scoring, are other ideas to throw in the packed filled gift.
Camping Fun and Games Gift Basket
If the family or person likes to camp, a camping themed gift arrangement can be given.  Here, a backpack makes an ideal container to slide the fun and games in.  For children, a flashlight, bug collecting kit, and washable water bottle, with the games Camp, Creatures, or There's a Moose in the House fashions an amusing group.  For a family, the games Bears! or Skunk! with trail mix, edible sticks and acorns, and camping supplies, will be treasured.
Lego Fun and Games Gift Basket
Any child who is into building with Lego's will appreciate a fun and games Lego themed basket.  There are many Lego games to now choose from.  Placing any one of these in a basket or small storage container (later used for Lego pieces), with other small items (either Lego related or not) makes a thoughtful gift.  Depending on which Lego game may help with the choice for the other small items to slide in with the game.  For example, if the game is Lego Race 3000, then a few matchbox cars or a Speed racer video would correlate.  If Magikus, then a magic deck of cards or play wand would mesh well with game.
A Spy's or Wizard's Fun and Games Gift Basket also create an interesting and themed collection to give to a child.  Gathering, and placing together items which correlate with the chosen game, designs a charming display.  Spy Alley is an exciting game for the 'aSpying' detective and Magician's Kitchen or Frog Juice are ideal games to include for the Wizard's apprentice.
Fun and Games Gift Basket for a Boy
Although many of the above fun and games gift baskets works well for any boy, an arrangement can be made which includes the game Stratego.  The classic game situated amongst a Nerf gun, army men, and treats like sour gummy worms builds a generic fun and game theme for a boy.
Fun and Games Gift Basket for a Girl
Again many of the above gift arrays would be appreciated by a girl. Many games of course are enjoyed by either a girl or boy.  But, adding nail polish, flavored chap sticks, a pair of earrings, or scented hand creams personalizes the gift.  Sleeping Queens is a card game which would make a great game to give to a girl.
Fun and Games Gift Basket for a Preschooler
The Sneaky Snacky Squirrel game, given with a small stuffed forest animal, stickers, treats, and coloring book with crayons, creates a wonderful fun and games gift basket for a preschooler.  The child can enjoy all the different items themed with outdoor fun in mind.  A jump rope or ball slipped inside the collection adds more excitement as well.
All the above gift baskets can be decorated with Christmas colors and embellishments for an appealing holiday display.  Red tissue paper, silver bows, Christmas candies, peppermint sticks, and assorted greens are positioned to provide the finishing touch to such a thoughtful and entertaining present.  The joy given will be continued each time one of the games is played during the year.  Merry Christmas!