Ten Best Games for Kids which Involve Animals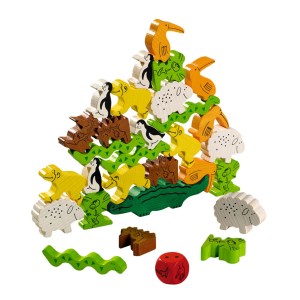 Kids love animals and playing games which include animals only add to their fun.  There are games, like Memory, Yahtzee, or Monopoly which have been especially altered to include an animal theme. The following games, though, are ones which were originally created to be games with animals.  Players are sure to have a wild time playing any of the various animal games listed below.
Animal upon Animal (ages 4 and up, 2 to 4 players)
Animal upon Animal is an exciting stacking game for all ages.  It includes lots of animals; 29 to be exact.  One large crocodile is provided which is used to form the base of the crazy pile of animals.  Then, 4 each of a monkey, penguin, sheep, lizard, hedgehog, snake and toucan are included.  These are to be placed on top or alongside the crocodile, depending on the role of a die.  Children won't even realize they are learning about following rules or developing their balancing skills while playing this game.  Animal upon Animal is all about fun and games!
Max (ages 3 and up, 2 or more co-operative players)

Attempting to move three friendly animals safely to their tree home and escape from the prowling cat is the player's goal in the board game called Max.  Max is the name of a Tomcat who is on the hunt for a bird, a chipmunk, and a mouse in the game. All players work together during the cooperative game to help the scurrying animals reach their tree.  It is a favorite game for many.
Zoo Panic (ages 4 and up, 2 or more players)

Zoo animals have been left out of their cages and players need to put them back in!  Although younger kids are easily able to understand and play this matching type game, older kids will love the game too!  Zoo Panic makes a great game to pull out when the kids are acting like animals on loose!
(Other first games involving animals, (chickens, dogs, owls, and more, are listed in the article; cooperative board games for younger children)
Amazing Flea Circus (ages 6 and up, 2-6 players)

Competing to have the biggest audience at their flea circus, players use cards (representing circus attractions) to create a great show.  The player with the most 'cats and dogs' wins the game!  Simple, but fantastic.  The numerous plastic dogs and cats included in the game box are charming.  The kids love playing with them; as a game or not.
Pig Pile (ages 7 and up, 3-6 players)

40 pink pigs are included in this game box.  Players can't help but have a hog wild time.  The fun family card game is easy to play and the humorous theme of pigs adds to the amusement.  Players strive to get rid of the cards in their hand and collect as many little pigs as they can in order to win.
Zooloretto  (ages 8 and up, 2-5 players)

Children and adults enjoy the theme of animals in this game.  It makes for a lively game night of fun. Each player is in charge of managing their own zoo and must take care in planning and filling the zoo.  The balance of strategy and luck is ideal for players with a wide range of ages.  It is simple enough for younger children and challenging enough for older.
Felix the Cat in the Sack (ages 8 and up, 3-5 players)

The description on the box says it all, "Using their mice as bait, the players attempt to grab the famous cat in the sack. Also in the sack are a jumble of both good and bad cats. The players can try to bluff one another by sneaking a dog or rabbit into the sack. At the end of the game, the nicest cats and mice will be worth positive points, while possessing the scruffiest cats will count against you."
There's a Moose in the House (ages 8 and up, 2-5 players)

Players attempt to fill rooms of their opponent's houses with as many 'moose cards' as they can in this 'silly card game'.  The player with the fewest moose in the house at the end of the amusing card game wins.  The cards display various rooms of a house (kitchen, bedroom, bathroom, etc.).  As players use other cards to close doors so no moose can get in, set moose traps, and place moose in opponent's houses, everyone has a great time.  The theme and game continues to provide laughs.
Mousetrap (ages 8 and up, 2-4 players)

Building an intricate, chain reaction mousetrap is the thrill for this game.  Families, since 1963, have gathered around trying to catch each other's mice by beginning with the crank which made the boot kick the bucket.  This in turn would send the ball down the stairs and finally (after a few more contraptions) hopefully trap an opponent's mouse.  The last person with an untrapped mouse wins.  Serving a Checkerboard of Cheeses makes a great treat while playing this game on a family game night!
Hey that's My Fish (ages 8 and up, 2-4 players)
Hey, That's My Fish is a hex-shaped tile board game with each tile displaying 1, 2 or 3 fish. The object of the game is to collect as many fish as possible while moving a player's penguin. As the penguin players gather fish, the tiles are removed creating gaps in the board and stopping penguin movements. Hey, everyone loves penguins! The game is a quick (usually 20 minutes or so) and is an adorable game. Both younger and older children will love it!
Any of the above ten games will provide hours of fun for families.  The animals depicted in the games make them all the special!
Play a game today!