The 1923 Old Parker Brothers Game of The Journey to Bethlehem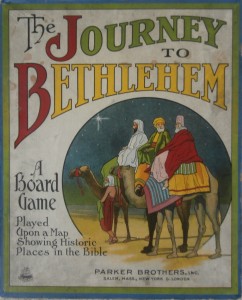 The Journey to Bethlehem is a wonderful old board game to bring down off the collector's shelf and play on Christmas Eve.  It was published by Parker Brothers in 1923 and shares the travels of Shepherds and the Three Wise men across a colorful and meaningful board.
The game consists of beautiful pieces.  I love the heavy die-cast Wise men and Shepherds that players use as pawns to represent them while journeying over the diverse terrain.  There are three of each in colors of blue, gold, and silver.  The spinner, indicating a player's movement is a six pointed star.  And as mentioned on the cover of the game box, the board is a map showing historic places mentioned in the Bible.
These items joined together make for a unique, interesting, and enjoyable game to play.  Even though the game utilizes a simple point to point movement, players learn the various locations that were important to the time, and even today.
To play, a player moves either a Wise man or Shepherd towards the space marked Bethlehem. The first player to reach this 'starred' space wins the game.
One hundred and forty five Biblical places are said to be marked on the board in the directions of the game. However, there are two separate paths; one for Wise men and the other for Shepherds.  When I count the spaces (each marked with a place name), I get a total of 74 for the Wise men's path and 75 for the Shepherd's path.  So with the Dead Sea, Sea of Galilee, The Great Sea (Mediterranean) and Bethlehem marked on the board, it would seem over 150 places are there to regard during the game.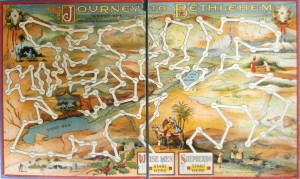 The Shepherd's path begins with traveling past the first space named Edrei and passing through Damascus, Lake Merom, Sidon, Magdala, Kadesh, Shiloh, Jerico, and many others before reaching Bethlehem.
The Wise men's path passes Gerasa first, moves across the Jabbok River and through places like Mt. Pisgah, Masada, Sheba, Hebron, Gaza, Lydda, and Arimathea.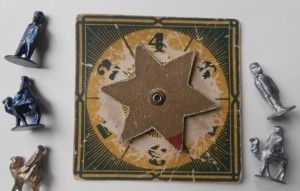 Each of the zigzagging journey's leads to the Star of Bethlehem and the player with an exact spin who reaches there first, wins.
The cover of the box makes a fantastic display, and the board with pieces set in front captures the attention of those who pass.  There is something special about a game that created player's pieces to go along with the theme of the game.  The Wise men, Shepherds, and spinner with a star are not just the ordinary pawns many games included.  They are charming and admired, and are one of the qualities (along with the Biblical board) that I just love about the game.  It is a striking piece of history.
Please feel free to Like/Follow All About Fun and Games for continuing information and ideas on Fun and Games!