The Berenstain Bears Spooky Old Tree Board Game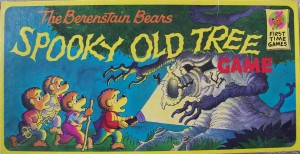 One of my and my children's favorite stories is The Spooky Old Tree by Stan and Jan Berenstain.  When we discovered it was also made into a board game, we were thrilled.  It provided just another way to enjoy the tale.  Board games are a natural way to add to the delight of the many cherished stories.  They allow readers to become active.  The players of a game can jump right into the excitement found within the book it is based from, and experience the fun while moving on the board.
The first Berenstain Bears book debuted in 1962 with the story entitled The Big Honey Hunt.  Since then, the lovable stories about the family of bears have grown into the hundreds; and other avenues, like movies, continue to provide entertainment for families.  Although my kids are a bit older for reading the simple rhyming stories to today, we have been influenced by the Spooky Old Tree story.  If we go outside into the dark and become spooked, we laugh and say a line from the tale, "All with the shivers!"
Keeping with the book, the Spooky Old Tree game directs the bear characters through the inside of an old gnarled tree.  One bear has a light, one has a stick, one has a rope, and an extra bear (not found within the story) has a key.  The object is to be the first player move across the board and back to his own finish space.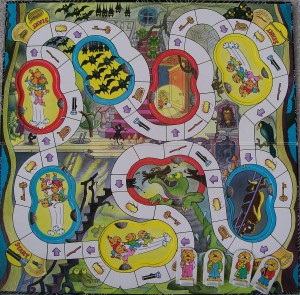 The suspenseful journey, acted out on the board, does so by the use of a spinner.  There are also eight puzzle pieces which fit into the board and can be flipped.  Depending on one's spin and space landed upon will indicate whether a player is able to flip a piece on his turn.
This flipping feature of the game offers strategy to the players.  On one side is a shortcut across the pathways of the game board.  The other is not.  Determining if to flip a piece to provide a shortcut for yourself, or deciding to take one away from another player, can sometimes be difficult.  This element is great for younger bears to develop early strategic and thinking skills.
The images on the board also keep with the story.  Do they even dare to begin the game?  "YES, they dare".  Lines from the tale, the bears will maneuver up 'the twisty old stair', 'go through the moving wall', and 'go over Great Sleeping Bear.'
It is a game which all players try to get to finish and win the game without 'getting the shivers!'
(the 1989 board game can sometimes be found on sites like EBay)
What's your favorite game and book combo?