The Card Game of Dragon's Hoard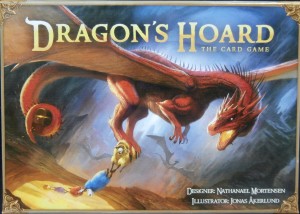 Game Designer, Nathanael Mortensen, recently published a new card game called Dragon's Hoard.  It is an exciting challenge and worthy of play!  Players take on the role of a fierce dragon and attempt to gather the most valuable hoard of treasure during the game.  Collecting sheep from the farmer's field, and using them wisely, gives any Dragon the chance to create a plentiful and ultimate lair for winning the game!
The basic game consists of 90 cards.  Both sides of these colorful cards are vital to game play.  The back sides of the cards display Sheep of five different colors; there are 18 of Blue, Purple, Orange, Yellow, and Red.  The face sides features 50 Treasure cards and 40 Action cards.
How players use these unique double-sided cards is the main key to amassing the most treasure.  Dragon's must make strategic choices concerning the playing of these cards during their turns.  Should they battle for riches or hoard more jewels?  The decision is never easy, but always fun!
The game begins with each player receiving 4 cards to make their initial hand.  The remaining deck is placed in the center of the table and 4 cards (displaying Sheep) are positioned in a row.  This, and the top card of the deck, is the Farmer's Field.  As Sheep are taken by Dragons (players), more Sheep (from the deck) are replenished.
In order to gather the wealthiest hoard, players must place treasures within it. Throughout the game, cards are drawn from the field, and opportunities to play Action Cards to thwart opponents, or place Treasure Cards (worth points) to a Dragon's Hoard, are given.  Different Treasures are worth more than others.  These, of course, also require more 'sheep' to collect.
One of the toughest decisions for a Dragon to make is if he should keep Sheep to form a larger and more valuable treasure to lay down at a later time, or if he should use only a few Sheep to lay down a smaller treasure immediately.   Maybe he should even use some of these particular sheep to send Angry Mobs, Knights, Wizards, and more to place obstacles in his opponent's path?
These options arise during a turn for a Dragon mainly because of the double sided features of the card.
Treasure Cards require payment of Sheep to lay them down.  Sheep are one side.  However, on the flipside of all Sheep Cards are Actions and Treasures to place in a hoard.  Sacrifices, of not only Sheep, but of Actions and various Treasure cards must be made.
A player with a hand consisting of the following cards could choose to do one play at the expenses of others.
Since during a turn, a player can take up to two actions (One: place a Lair or a treasure down in front of him.  Two: Play an Action Card), a player with the above hand could decide to Place the Harp Treasure Card into his hoard.  This treasure card is worth 3 points (indicated by the number).  However, to place this Treasure Card in his hoard, he must pay with 1 purple sheep and 2 sheep of any other color.  He does have this.
However, if the Dragon chooses to send an Angry Mob to his opponent (by playing that card in front of his opponent), he would then not have enough 'Sheep' cards  to play his 'Harp' treasure card into his Hoard. He could place a Ring Treasure in his Hoard, though.  But this is only worth 2 points.  Will this point matter in the end?  He could even decide to place the Lair down.  Lairs offer bonus points according to the number of matching colored Treasures placed in them.
The possibility of choices granted to players during the game offers lots of adventure and fun for Dragons!  It keeps the game lively, and a player never knows what to expect!   The winning Dragon always seems to be a mix of the cleverest, luckiest, and hungriest!
Who knew such treasures, and entertaining challenges, could hide in such a compact box.  I love playing it and would recommend it to anyone!
For complete details visit Dragonshoardthecardgame.  The game can be purchased on Amazon or through a link on Dragon's Hoard site.  It will provide many an entertaining night!