The Creative and Fun Preschool Sneaky Snacky Squirrel Game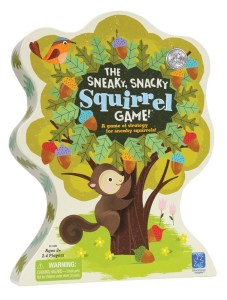 Sneaky Snacky Squirrel Game is a wonderfully fun game for preschool children.   The pieces of the game are adorable and encourage little hands to develop their motor skills and little minds to learn.  The object of the game is to fill the stump with acorns, so there will be food for the squirrels to eat over the winter.  The forest theme with the unique gameplay keeps children as young as three excited to play.  Players can also enjoy tasty edible acorns while playing the game as well!
Included in the game are 'Squirrel squeezers' used for picking up acorns.  Kids just love this original game piece!  The game also comprises of 20 colored acorns, 4 stumps and game board (box), and 1 game spinner.
To begin, each player receives a stump with five empty colored holes to place beside him. The holes on the stump need filled by the matching colored acorns which are placed inside the brightly decorated tree box.
Taking turns spinning the wheel, each player follows the instructions given on the spinner.  If the spinner lands on a colored space, the player will use the Squirrel squeezer to pick up the matching acorn and place it on the matching space of his stump.   The spinner could also land on pick an acorn, pick two acorns, lose an acorn, steal an acorn, or skip a turn.  Images on the spinner, like a sad squirrel for the losing of an acorn, add to the charm of the game.
The first player to fill his whole stump with the correct number of matching acorns wins the game.  Young players will learn about colors, develop their fine 'picking up skills', expand their strategic thinking, and discover the fun in just playing a game.
This forest themed game, although there is a winner, is not all about winning.  It is also about feeding the squirrels.  All players can be happy for the winner because the squirrels are being supplied with acorns for the winter.  Players can continue to fill their own stumps for the enjoyment of it.  Children love small animals and the game teaches players to consider and have fun with them.
The Sneaky Snacky Squirrel game is perfect to give as a present.  Add a bag of edible sticks and acorns, some forest themed stickers or pencils with the entertaining game, and for a price of less than twenty dollars, a person has created a wonderful gift to give.  It will sure to be appreciated by the whole family.