The History of Monopoly Game Tokens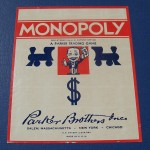 January 2017 BREAKING NEWS: MONOPOLY is at is again: Until January 31st, 2017, players can vote on 64 suggested new GAME TOKENS.  Only 8 Monopoly game tokens will win:  Vote HERE!  You can vote for a Penguin, Emoji, an array of new footwear tokens, race car,  and LOTS more options.  Have Fun!
Almost any person around the world has at least heard of the game Monopoly.  Most have even played the game (or started one).  Monopoly is one of the best selling board games of all time, and according to the Hasbro website (owner of Parker Brothers Game Company who first widely produced the game), it is sold in over 103 countries and published in 41 different languages.  For any Monopoly player, one of the first decisions of the game is to choose which token is going to represent him while moving around the board. Over the years, these game tokens found inside a Monopoly box have included many different styles.
Charles Darrow, designer of Monopoly and who originally sold homemade games himself in 1933, decided to leave the choice of token entirely up to the player.  In the book, Timeless Toys by Tim Walsh, Walsh shares that the directions for Darrow's game simply state, "See that each player is provided with some token."  It seems any small object a player could find around the house would suffice.  This option may provide the basis for some of the selections Parker Brothers later featured. The common and small household item of the thimble would have made an ideal game piece and may have influenced the future game makers to include it in the game's tokens.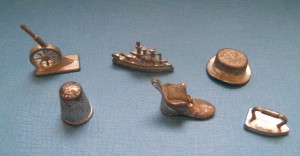 The first Monopoly game tokens, produced by Parker Brothers in 1935, were the thimble, ship, shoe, hat, cannon, and iron.  These tiny game pieces were made of metal.  Curiously, a few of the earliest tokens have been discovered to consist of a small hole.  It has been suggested by game historians these game tokens were actually charms intended for bracelets.  Before Parker Brothers had employed their own molds for tokens, the company may have utilized charms.  Since early players needed to supply their own game tokens, they had used charms.  Parker Brothers may have just followed suit.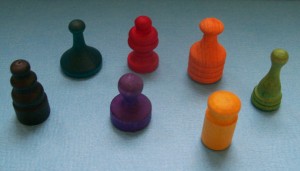 The game of Monopoly quickly became increasingly popular.  By 1936, Parker Brothers could not keep metal tokens needed for the game in supply.   Because of this short fall, the company substituted the metal tokens for different colorful shaped wooden pieces or cylinders at the time.   During WWII, when demand for all metal was at a high, the wooden tokens re-appeared and became standard for the period.  Bakelite tokens were also utilized during these times.  It seems an elephant, train, and other crude shapes were introduced with this new type of token material.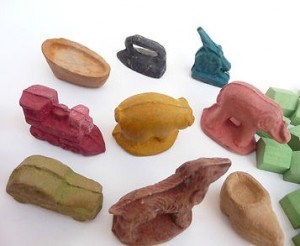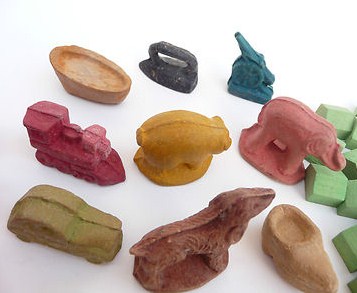 Throughout Monopoly's production, other metal tokens turned up in the games.  Collectors are always on the lookout for the rare rocking horse, lantern, and purse which were included in certain early editions.  The adorable and well known Scottie dog emerged after the war, along with the horse and rider, wheelbarrow, car, and airplane.
Later, in the late 1990's, a moneybag token was introduced to game boxes.  The most recent change to Monopoly Tokens, however, came in February 2013.  Hasbro announced it was replacing one of the time treasured tokens for a 'new other'!  Players were allowed to vote and choose which classic token was going to 'jail for life' (wheelbarrow, shoe, racecar, top hat, thimble, Scottie dog, battleship, or iron) and which new token (robot, guitar, helicopter, diamond ring, or cat) was going to replace it and be the new Monopoly Token for standard games.  On February 6th, 2013, it was announced the Cat was taking over the Iron.
The number of tokens provided in a game box has varied too. For example, the first Parker Brother's game comprised of only six tokens. But, some Monopoly games were recommended for 3 to 7 players, and in these games, seven tokens were provided.  Today, the directions suggest the game to be played with 2 to 8 players and so at least 8 tokens are now included.  Deluxe editions may contain up to 12 tokens, though.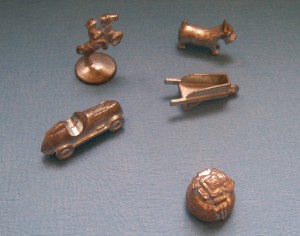 No matter which token is chosen, a player is sure to take quite a few strolls around the board with it.  Monopoly is known for the long length of time it takes to finish a game, and so maybe this is one of the reasons why Monopoly players are so choosy about their tokens.  A player and his token are a team for a good amount of time and he will want to be sure he picks a companion he likes.  It could also be the reason why the tokens are so collectible and memorable.  A player is sure to remember the token he moved relentlessly around the spaces; especially if he eventually won!
Please Follow/Like All About Fun and Games on Facebook for continuing information and ideas on Fun and Games!
Sources:
Monopoly History, Hasbro, reviewed February 6th, 2012
Walsh, Tim, Timeless Toys, Andrews McMeel Publishing, 2004
Orbanes, Phil, The Game Makers, Harvard Business School Publishing, 2004
In the comments below, please feel free to share, 'What is your favorite Monopoly token?'.  Mine is the wheelbarrow.