The Preschool Froggy Feeding Fun Game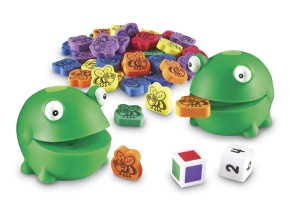 Froggy Feeding Fun teaches, develops, and strengthens lots of different talents of a preschooler.  Children have a great time playing with the frogs of the game, while learning their colors and numbers, practicing their fine motor movements, and building upon their social skills.
All this will certainly make a child hungry.  So you can plan to make this time even more special by preparing Frog Cookies ahead of time for players to eat.  After feeding the frogs, kids can feast on frogs! This brings out even more giggles and offers a wonderful, fun game time spent together.
The game consists of two squeezable rubber frogs, 60 flies, 1 number die, and 1 color die.  It is recommended for ages 3-7 and comes with an activity guide.  Players take turns rolling the dice to determine which flies their frogs should snack on.  Will a frog pick up two yellow flies or three red ones? Maybe the frog will want four blue flies?!
The activity guide provides different suggestions on how to play with the frogs and flies.  During play, the game (and learning) is made more exciting by creating munching sounds and making comments about the frogs eating the flies.  If a player rolls a six, players can laugh on how hungry that frog is!  Or if a player has rolled the same color in a row, he can chuckle how his frog loves that color!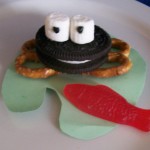 Munch, Munch, Munch!  Once the game is over, players can do the same.  Frog Cookies are a simple and fun snack to make.  Ingredients are:
Oreo Cookies- body of frog
Pretzels twists- legs of frog
Mini-marshmallows- eyes of frog
Cookie icing- used to attach legs and eyes to body of frog and dot in eyes!
Full directions on how to make this fun game night recipe is in the article entitled, "Create a Fun Froggy Game Night Theme and Have a Hoppin' Great Time!"   Frog Juice (Hawaiian punch) is served along with it!)
In that article are other 'Frog' games which can also be played.  The entertaining and cute recipe correlates with Wizard games, too.  A whole game night of fun could be planned.  Spending time making amusing snacks for the night, and choosing games to play, adds to the anticipation and thrill of games.
It doesn't matter who wins or loses.  It is spending the time together and enjoying each other.  So much is learned by playing a game!  Go ahead and plan a night to do so!