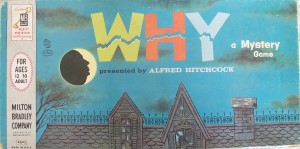 With recently writing about the vintage 1951 board game of Who? by Parker Brothers, I figured I should write my next collectible board game article on Why. Milton Bradley published this game in 1958. Why, presented by Alfred Hitchcock, is another game, like Who? which will test each player's memory.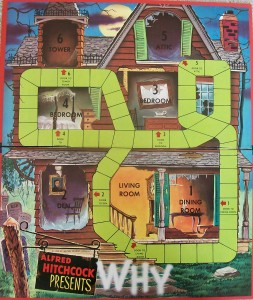 On the inside of the game cover the following short story is told by Alfred Hitchcock:
"One stormy night, long ago, six people, dressed in masquerade costumes were coming home from a party. They took shelter in my old house and haven't been heard from since. Unfortunately their Ghosts are haunting the place! This is Why I asked all you Private Eyes to come here today. The person who can solve the mystery will be greatly rewarded!"
Players (either 2,3, or 4 and recommended for ages 12 and up), take on the role of Private Eyes. They can choose to be Charlie Clam, Shylock Bones, Dick Crazy or Sergeant Monday. Their mission is "to collect the largest reward by uncovering the most evidence as to WHY the Ghosts haunt the old house." The game board depicts the inside of the old house. Scattered within the rooms are the pieces(cards) needed to solve the mystery.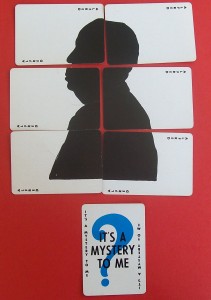 There are two ways to win the game. The first way for a player to win is by collecting the four cards forming a ghost, four cards revealing the weapon, and one card answering Why the murder was committed. The second is for a player to collect all six cards which displays the silhouette of Alfred Hitchcock and the one 'It's a mystery to me' card.
Each player begins with 7 cards. Dice are rolled to move around the hallways of the home. Entering into the rooms (Living room, Dining room, Den, 2 different Bedrooms, Attic, and Tower), a player searches for evidence (picks up cards). A player can also search for evidence in other player's hands. But sometimes the best place for finding evidence is scattered not in the house, but outside in the lawn.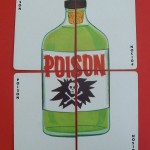 The lawn is where players toss out all unwanted evidence (cards). It is anywhere off, but beside, the game board. During the game, players are only ever allowed to have 7 cards in their hands. While searching, they are sure to come across evidence which they find no immediate need for, and so they toss it into the yard. Before placing it face down in the yard, the card is shown to all players.
This is where strength and showing off a player's memory skills comes into play. A player who can remember where each piece of evidence was discarded, will easily be able to later pick up all needed pieces to win the game. At any time during the game, a player may choose to pick up evidence from the lawn. He must first announce to all players the piece he intends to pick up. If correctly found he may keep it. If not, he must discard a card from his hand and his turn ends.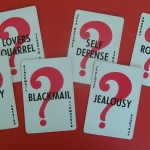 Why is a great game to get down and play in order to keep memory and thinking skills in shape. Although playing the preschool game of Memory may work just as well, Why seems more 'cool' to play as an adult. It is a game which may have older player's ask, WHY can't I remember where that card is!?