Themed Fun and Games Gift Basket Ideas
Have a family to buy for? What about just a couple? With a bit of inspiration the ideal present can be given by creating a themed fun and games gift basket.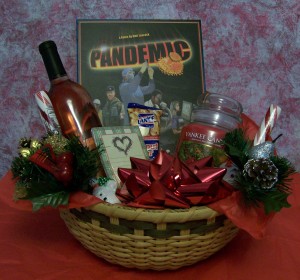 Gift baskets make thoughtful presents for anyone at anytime. Whether they are given as a thank-you, as a housewarming, or at Christmas time, gift baskets can be interesting, unique, personalized items which any person or family will surely appreciate. The following are suggestions on how to create wonderful, and yet affordable, fun and games gift baskets for any occasion which will bring smiles to all.
The Couple
Placed within a decorative sturdy basket, games for two players can be elegantly positioned around a bottle of red wine, two wine glasses, miscellaneous snack items, and a scented candle. A deck of cards is a must but there are many great two player games which can also be added and will provide the finishing touch.
Lost Cities or Hive make the top of the list with both of these games winning multiple awards. Mastermind, Blokus, or if the couple is newly married, a Chess or Checker set will do well. This two themed fun and games gift basket will make any couple happy.
The Travelers
If the person or people you need to buy for frequently travels, the themed fun and game gift basket items can be placed within a beautiful tote bag instead. Small tablets and pencils, a deck of cards, and other games about travel or travel sized are perfect to toss into their new travel game bag. Add some brochures, maps, or books on best places to visit in their surrounding area and they are set to go. If they get delayed or have a rainy night during their trip, the travel game bag will be just the right ticket!
The Family
Travel game bags also make great gifts for an entire family. Depending on how large the family is may decide on how large the bag needs to be. As in any gift game basket (or bag) it is great to start off with snazzy paper tablets and pencils and a deck or two of cards. Cards seem to constantly disappear (a lot like socks) and fresh, complete decks are always welcomed.
Suggestions for games to add to the bag may be Saboteur for a large family since this game is best played with at least 5 or more players. For a smaller family of 3 or 4 players, Forbidden Island is recommended. Adventure and fun travels well in its strong metal container. Other games which are compact for traveling families are dice games like Swipe or LCR or specialized card games like Phase 10, Blink, Uno, or the new Angry Birds card game.
A mixture of board, dice, and card games make the perfect fun and games gift basket for families. The gift can be spruced up with various snack items, drink mixes, or candies. Creating a gift basket of fun and laughs will be enjoyed throughout the year by any family.
The Single Business Man or Woman
Everyone can use some fun and games. Giving a themed fun and game gift basket to a business man or woman will be giving just that. Line a stylish basket with not tissue paper but the Wall Street Journal. Place a tasteful treat, scented candle, and/or bottle of wine next to a few solitaire games. Rush Hour is perfect. There are also board games which play great as one player games.  Arkham Horror, Pandemic, or Blokus would provide the single with a night of fun. When company comes over they would also have a game to play at that time too!
Themed fun and game gift baskets will provide many with laughs and smiles. Taking time to create and add the personal touch to a present is something a person on the receiving end will appreciate and be extra grateful for.