Three Preschool Board Games that Teach Counting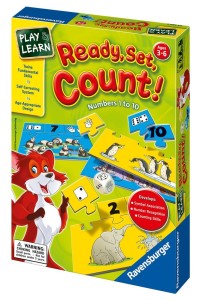 Teaching a child to count can be as easy, and as fun, as playing a game!  The following three board games are perfect for such an experience.  Preschoolers will enjoy playing any of the games, and won't fret, or even realize they are learning the basic skills of counting.
Ravensburger's Ready, Set, Count! teaches children to recognize numbers and count in a variety of ways.  The game includes ten sturdy base picture number cards, thirty puzzle pieces, and a specialized die.  With each colorful base puzzle card illustrating a different number of animals (from dogs to giraffes to elephants or tigers and more), children will have fun just counting the lovable creatures on their cards.
However, in order to win the game, a player must be the first to correctly attach the three top puzzle pieces to their base puzzle card.  By the roll of a dice that either depicts fingers, dice, or numbers, players are directed to find the matching puzzle piece for on their card.   Ravensburger, like some of their other games which teach colors, provides an exciting way to learn!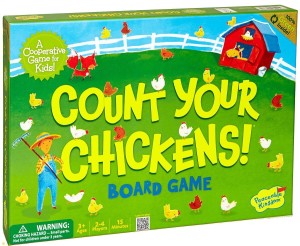 Peaceable Kingdom's Count Your Chickens is another great counting game.  The game is one of Peaceable Kingdoms' new cooperative board games and has an adorable theme which children love.  Baby chicks have flown from the coop, and all players need to work together to help Mother Hen gather them up again.
By indication of a spinner, all players move Mother Hen across the barnyard game board. Counting the spaces moved gives the players the number of chicks to gather and place back into the coop.  But watch out for the Fox!  If a spin has players land on the fox space, a chick is taken from the coop and placed back into the barnyard.  All players win the game, if all chicks are in the coop, once Mother Hen has arrived back.  Count Your Chickens is one of children's favorite counting games.
Hasbro's Hi-Ho-Cherry-O is a classic early childhood board game.  Even though it was first published in 1960, Hi-Ho-Cherry-O still remains a fun and amusing game to introduce counting to children.  Players race to fill their buckets with ten cherries from a tree. Spinning the arrow indicates a player's move.
The arrow can point to seven different sections on the spinner.  It can point to an image which directs a player to place 1,2,3, or 4 cherries in their bucket from off a tree.  The arrow could also point to a dog, a bird, or spilled basket. Two cherries are taken from the bucket and placed back on the tree, if it is the dog. The spilled basket requires all cherries in the bucket to be placed back on the tree.  The bird indicates one cherry put back on the tree.
In a 2007 update of Hi Ho Cherry- O, instructions were included to give a cooperative method of play.  Here, the bird spin would indicate a placement of a nine piece puzzle of a bird.  All players work together to remove all cherries from the board, before the bird puzzle is completed.  Either method of play teaches the basic skills of counting in an enjoyable manner.
Any of the above three mentioned games are wonderful first games to introduce counting to children. Playing games is a timeless way to learn.  But, most of all, it is a timeless way to have fun!