Vintage 1938 Parker Brothers Calling All Cars Board Game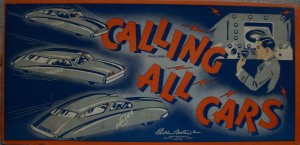 Calling All Cars was first published in 1938 by Parker Brothers.  The artwork on the cover changed over the years the game was produced, with the earliest version being the most valuable and collectible today. The one shown here is believed to be from the late 1940's. There is not a copyright on my box, directions, or board.
The game consists of a board displaying four separate tracks with the Central Police Station in center, two spinners on the same large card providing movements for the players, and four small metal police cars.  Even though there are only 4 different cars, the game says 2 to 5 players can play.  I found this a little amusing.  If there is a fifth player, he merely spins the two different indicators and announces each of the player's moves.  The cover of the game box shows the announcer.  This could actually be quite fun if the player truly acts out his part!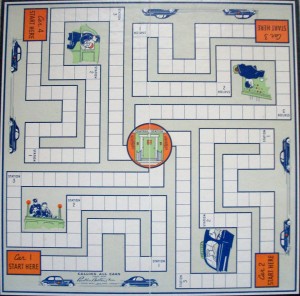 To begin play, the players select their color car (red, blue, green, or silver) and places it on one of the corners of the board.  These places are marked one, two, three, or four.  If there is not a fifth player to spin the indicators, one player can be chosen to be the announcer (spinner) throughout the entire game or all players can decide to take turns spinning it.
Both spinners are used during a turn.  The smaller spinner determines which car moves.  The spinner includes spaces numbered with 'calling car' 1,2,3, or 4.  Or if the arrow lands on 'Calling all Cars', all players move their cars.  The larger spinner determines the amount of spaces the car(s) should advance, remain, or go back.  There were two other spaces which either say, 'Take prisoner to nearest station ahead' or 'Report at start'.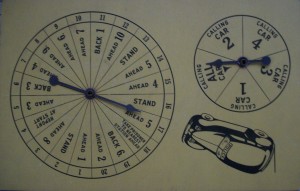 The winner of the game is the Police Car that reaches the Central Police Station first.  This does not have to be done by an exact spin.  Although the game is an extremely simple race game, Calling All Cars offered the opportunity for families to gather together and spend time with each other.  The game was made even more entertaining if the player being the announcer had fun in telling where the players to move.
If finding the game for sale today, be sure to check the inside of the box for the cars.  The colorful metal cars are sometimes missing from the game.  It isn't hard to imagine the tiny cars were played with even when not playing the game.  They could be enjoyed outside the board and surely were.  But these are important to have for value and are collectible.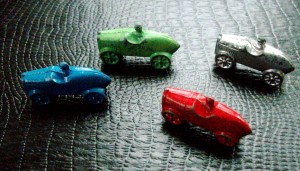 As a game collector, Calling All Cars provides another game to add to the shelf, and I love the cars as game pieces!