Vintage 1969 Hey, Hey, Witch Way?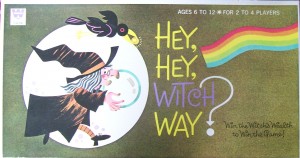 The vintage 1969 game of Hey, Hey, Witch Way?, is an ideal game to bring down from the game closet around Halloween. If you don't have the game, October is the time of year it usually shows up for sale on sites like EBay. The game published by the Whitman Publishing Company will take players (2-4, ages 6 and up) on all sorts of spooky paths and provide an adventurous night while staying right at home.
Players begin by equally dividing up the Gold Coins included in the game box and having each player place two coins on the Pot of Gold space marked at the end of game board. Choosing a colored piece to represent them, players then take turns spinning the wheel and venturing into the realm of mystery. Traveling through a forest with Witch-nic's, climbing up the steep Magic Mountain to the Witch's Treasury, escaping the deep, dark dungeon to find oneself in the Monster's Moor, crossing the Troll Bridge, and finally racing down Witch's Way, has players happy to reach the Pot of Gold at the finish.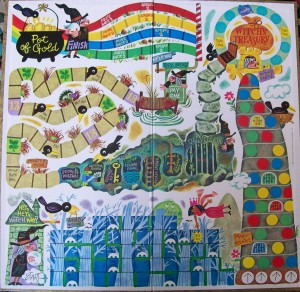 Although the first player to reach the Pot of Gold, receives the Pot of Gold, he is not always the winner. After all players arrive at the finish line, the player with the most gold coins wins. Since all throughout the game there are ways to collect and lose coins, any player could be the winner.
Once completing such a daring and exciting journey, players are sure to be hungry and thirsty. Offering some Spider Cupcakes and Witch's Juice will certainly be appreciated. Players may even be ready to travel the same course again, once re-energized.
The way to make Spider Cupcakes is shared in the article entitled, Plan a Ghostly Outdoor Game Night any Night of the Year. They are simple to make. Bake some cupcakes, ice the tops, add licorice spider legs and some red eyes. The ordinary cupcakes turned into special and fun treats for kids. Witch's Juice is any punch spruced with the 7-up in a Witch's ingredient cabinet.
There are other great vintage games to play, or to look for on EBay around this time as well. They are Mystery Mansion, Which Witch?, Goosebumps board games, Haunted Clock Tower, or the classic game of Clue. For older children, teens or adults, Arkham Horror or Betrayal at House on the Hill are great games for a menacing theme.
Playing games, and mixing up some tasty snacks, with the time of year in mind, adds to the fun and games of any night. For Halloween, gather family or friends, and have a high-spirited occasion while playing some of the above mentioned games!