Vintage Board Game: Matchbox Traffic Game with 1968 Matchbox Cars as Pieces
How awesome of a board game to include two Matchbox cars as game pieces to move across the board!  You have to love the 1968 vintage Matchbox Traffic Game for not only that reason, but for the joy it gives kids (and adults) to play.
Interesting quick note though, the game is for up to 4 players, so in the directions it writes, "In games with more than two players use additional cars from your collection."   They must have assumed you would have them (and of course I'm sure those playing did/do!)
So grab your favorite Matchbox Car and let's get playing.
The game board depicts a town with various places marked and roads flowing through.  In the center is a Movable Intersection area connecting the main four side roads.  The objective for the game is to be the player who best travels through this town, to destinations picked, and scores the most miles at the end.
Brief summary of rules is that each player receives 8 'Destination Cards' which correspond to locations on the board.  Players take turns spinning the wheel and also turning the Movable Intersection in efforts to reach their destinations as quickly as possible.  The intersection is a 'shortcut' across the board, but comes with Risk since it moves and could completely turn a car in the wrong direction of where he needs to arrive.
Along the way, Merits are awarded and so are Tickets for Traffic Violations. These will affect the miles scored for players at the end of the game.  The game ends when one player completes all 8 driving missions.  Scores are then tallied, and the highest score wins.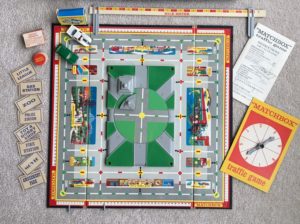 Collecting antique and vintage board games is a fun hobby.  They offer such a unique look at all the ways fun can be found in games and were played.  What I can imagine with this vintage game is a little boy opening it up for Christmas and being all smiles.  As said, it includes two exclusive Matchbox Cars, but it is also a little town to play around on.  The 'game' itself wouldn't have to be fully played to enjoy the 'game'.  The Matchbox Traffic Game offers multiple ways to enjoy and have fun all year round.
Obviously, from the many games today, which are missing their cars, you know kids played with the game's pieces without board for sure.  The official game pieces (cars) often got separated from the game.  But you can't complain.
I love having this game in my collection.
Enjoy a game today!