Wizard Themed Fun and Games Gift Basket for the Aspiring Sorcerer
Have a wizard in your household? If so, the wizard themed fun and games gift basket makes an ideal gift for that talented person at any time of year.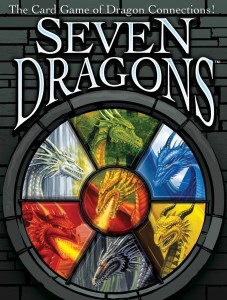 Anyone can create a gift basket for an aspiring wizard by adding a few magical items with a charming wizardry themed game. A wizard's hat, wand, small plastic dragons, magic eight ball, star-shaped notepads, fancy pencils, candy worms or frogs, or glow in the dark moons and star package are only some of the ideas which can be placed with a game in a basket. Instead of a basket, the enchanting array can be situated in a shiny black play cauldron. This would enhance the display and would provide the wizard with a pot to then use for mixing his or her spells in.
Below are some helpful suggestions on wizardry games which will complete the gift ensemble. The world of wizards, magic spells, and dragons will be brought right to the sorcerer's powerful grasp by playing any of the following games:
Seven Dragons (recommended for ages 6 and up/ preschool version in rules)
Seven Dragons is a domino style card game where players attempt to connect seven of their dragon cards together. The artwork found on the cards is brilliantly done by Larry Elmore, who is recognized for his amazing talent of depicting dragons. The game is for 2-5 players and is easily learned by even the youngest players. All wizards will enjoy playing with dragons!
Wizard's Gambit (recommended for ages 8 and up)

While competing to be claimed the Grand Siege Magus, players struggle to accumulate the most points. Spells are added to a wizard's book, which can be cast to strengthen their own strategy for winning or to hinder their opponent's. Dangerous, but powerful spells abound. All wizards are tested, but only one winner takes the title.
Wizard Card Game (recommended for ages 10 and up/ Junior version ages 8 and up)

A simple and easy to learn card game for all sorcerers. A bit of strategy, a snip of luck, and loads of fun are the ingredients for this charmed game. A night filled with playing rounds of Wizard will make any player feel they are under a spell. Time runs fast when having fun. The quick and addictive play has a player wondering where all the time went.
Fantasy Wizard (recommended for ages 10 and up)

The score pad of truth reveals who was the best wizard at the end of this game. It will show who predicted the correct amount of cards he would take during a round. Humans, elves, dwarves, and giants battle, but the wizard trumps all. This fast paced card game will have all aspiring wizards looking for guidance and power to form their best prophecy.
Grimoire (recommended for ages 10 and up)
As the title of this game suggests, Grimoire (French for spell book) is a game which each player strives to cast the best spell during his turn. The game includes 5 little spell books for which a player uses and chooses his spells from. The excitement and the suspense of cast spells around the board make a great game for the fan of sorcery.
Creating a themed gift basket provides a special and personalized present. For the wizard enthusiast, playing a magical game will not only be great fun but will widen their imaginations. The wizard themed fun and games gift basket will surely enchant those who receive it.