Bedtime Stories for Kids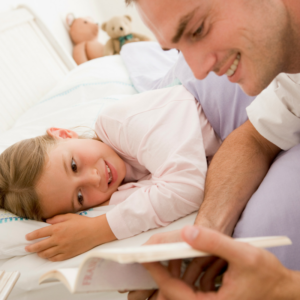 If you are a parent, I am sure you have seen the bedtime frown. You know the one. It's the one which appears on your child's face after you say, "Time for bed." It is usually accompanied with what I call the whimper whine. But don't worry…..there are ways to quiet the whimper whines and turn the bedtime frowns upside down. One is with by reading great bedtime stories for kids.
I know what some of you may be thinking…"But I don't have time to read a story." I understand what you mean; I have often thought that too. However, bedtime storytelling doesn't have to be time consuming. Taking only five minutes to share a beautiful book with your child before bed will do wonders.
Reading a story to your child before bed can help ensure a good night's sleep, strengthen bonds, develop intellectual skills, and create lasting memories for both you and your child. Investing those five minutes will provide the best return on investment you can ever know.
Thinking about the personality of your child or what your child likes to do can help determine which books will make the best choice for reading. Do they like adventure? Do they like animals? Or would they rather giggle with something totally silly? The following are some different suggestions for quick, yet fun and extremely valuable, bedtime reading.
Favorite Animal Bedtime Stories
If your child loves animals they will adore the award winning Stranger in the Woods by Carl R. Sams II and Jean Stoick [self-published, 2000]. It offers beautifully photographic pictures of many different animals of the forest. Children will be captivated with the various creatures, as you read about their responses concerning a mysterious stranger. At the end of the book there is a recipe for making your own mysterious stranger; a snowman.
Other suggestions for an animal lover are the beloved stories by Beatrix Potter. These include the Tales of Peter Rabbit, Tom Kitten, Jemima Puddle Duck, Johnny Town Mouse, or Squirrel Nutkin. From their titles, you can see how it would be easy to read about a different animal each night.
Dr. Seuss Stories Bedtime Stories
Then there is Oh, the Pets You Can Get! By Tish Rabe [The Cat in the Hat's Learning Library, Random House,2005] which combines many adorable animals with the Cat in the Hat of the Dr. Seuss stories. This story introduces a range of pets to children in the style of Dr. Seuss.
All children enjoy listening to tales written by Dr. Seuss. His rhymes are well known for their charming rhythm and for offering chuckles. A Wocket in my Pocket is a fast-paced read which ends with a silly Zillow on a Pillow. This friendly looking creature could take the name of one your child's stuff-animals. Since the image shows a child and a Zillow going to sleep, this would make a perfect pick for a bedtime story.
Of course Green Eggs and Ham or The Cat in the Hat are always great reads….but I will admit…they may take longer than 5 minutes. So you may want to save them for extra special nights.
Berenstain Bear Stories for Bedtime
A great adventure story, also with the appeal of rhyme, is The Spooky Old Tree by Stan and Jan Berenstain. This quick read doesn't fall short on excitement. Children will be drawn into the suspenseful action of the three little bears as they explore the inside of this dark tree.
All the Berenstain Bear stories are entertaining and can provide learning experiences shared by Brother and Sister Bear. These books are great if you have more than one child as they will teach the loving relationships between siblings.
Classic Stories for Bedtime
Any nightstand will do well with classic books like Where the Wild Things Are by Maurice Sendak, Lovable Lyle by Bernard Waber, Anatole by Eve Titus, Petunia by Roger Duvoisin or the newer classics like Rainbow Fish by Marcus Pfister, or Stellaluna by Janell Cannon. I will be discussing them all later in the weeks to come.
These are only a few of the many. There are so many choices and I am sure we each have our favorites and the reasons why we love them. If you would like to share yours, please do so in the comment section. I would love to know what they are.
This list can then go on and on and on…….helping to make lots of 'FrownsUpsideDown.'